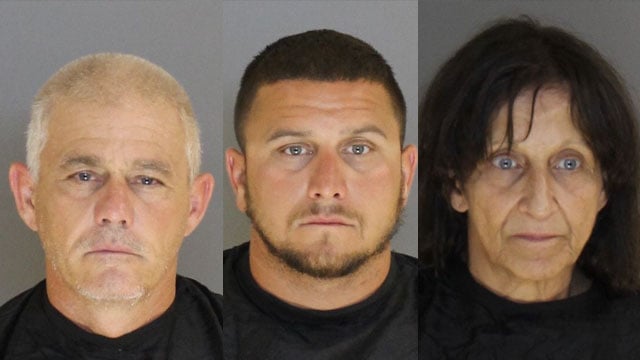 The Hendrix family (Robert, Michael, Marianne) (Source: Saluda Co. Sheriff's Office)
SUMTER, SC (AP) -
A South Carolina husband, wife and son have been charged with trafficking marijuana after authorities say they seized more than 63 pounds of pot worth an estimated $180,000.
Sumter County Sheriff Anthony Dennis tells local media that 59-year-old Robert Hendrix and 61-year-old Marianne Hendrix were arrested Wednesday. Thirty-year-old Michael Anthony Hendrix turned himself in Thursday.
Dennis says investigators learned that the family had returned to South Carolina from Washington state with a large haul of marijuana. Although marijuana is legal in Washington state, it's illegal to take marijuana outside the state.
On July 5, deputies searched the Hendrix's Dalzell home and car. They allegedly found two duffel bags and two suitcases full of marijuana.
Each face several charges, including trafficking marijuana. It's unclear if the accused have lawyers.
Copyright 2017 The Associated Press. All rights reserved. This material may not be published, broadcast, rewritten or redistributed.