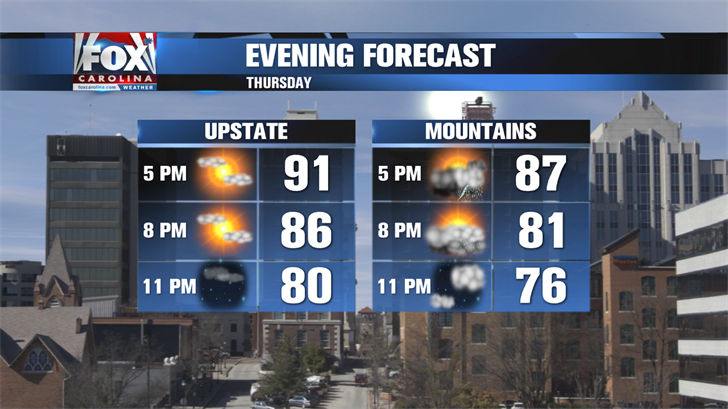 GREENVILLE, SC (FOX Carolina) -
Heat and humidity have sparked storms each afternoon, but will become more widespread by the weekend as a cold front approaches.
The rest of this afternoon will feature spotty downpours across the area, most likely in western North Carolina and even there, the coverage will be rather isolated. Expect temperature in the 80s to low 90s with heat index values 90-103 degrees. Any rain/storm activity will weaken after sunset.
Friday will be hot and sticky again with scattered storms in the afternoon as highs reach the upper 80s to low 90s.
The brunt of the wet and stormy weather arrives on Saturday, with much of the day soggy, as a cold front pushes closer. Sunday holds on to scattered rain and storms with highs in the mid to upper 80s, with some relief finally moving in next week. Starting Monday, less humid conditions arrive, with seasonably hot weather in the 80s to low 90s, and much smaller rain chances.
Copyright 2017 FOX Carolina (Meredith Corporation). All rights reserved.