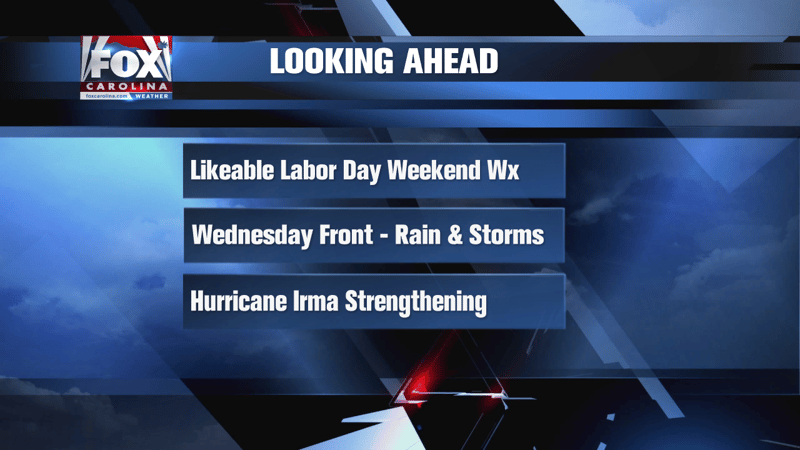 Near perfect early September weather will continue through the afternoon with full sunshine and a comfortable feel to the air.
Tonight will be cool and clear with lows in the middle 50s to lower 60s. Labor Day tomorrow will be nearly identical to today, so hopefully most of you have the day off to take advantage of the gorgeous weather!
Tuesday won't be too bad, but more clouds will be overhead with just a small chance at a shower in western North Carolina. Wednesday will bring scattered rain and thunderstorms to most of the area as a cold front sweeps through which should leave us dry by Thursday through Saturday.
TROPICS: Hurricane Irma re-strengthened into a major category 3 storm and is forecast to move west toward the Lesser Antilles and eventually turn slightly northwest toward the Dominican Republic by mid to late week.
After that, it is still uncertain what the storm will do, but long range forecast data do indicate a POTENTIAL U.S. landfall by late next weekend/early the following week.
A lot could still change between now and then, so it is important for those on the Carolina coast to monitor Irma's forecast in the coming days.
For MORE on Irma, click HERE!
Copyright 2017 FOX Carolina (Meredith Corporation). All rights reserved.