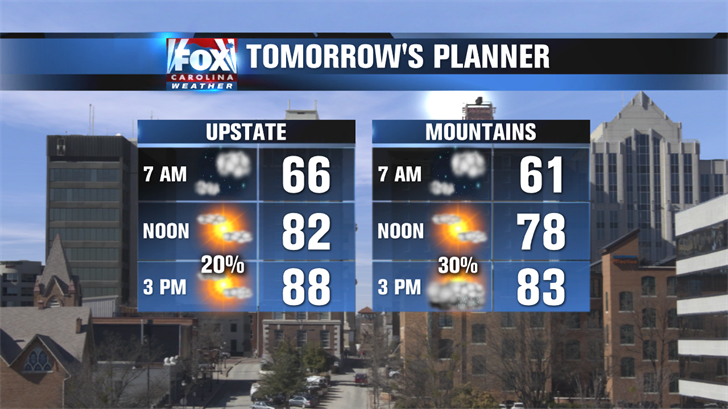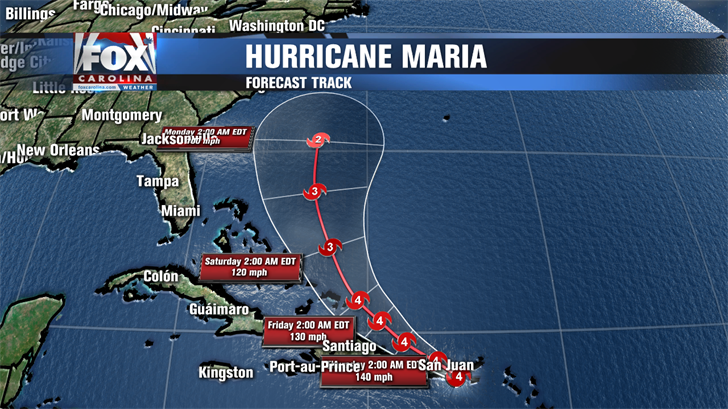 Warm weather continues locally with only small chances for rain as Hurricanes Jose and Maria still have our attention.
Wednesday will bring similar weather with highs in the lower to upper 80s in the mountains and Upstate respectively with just a slight chance at an afternoon pop-up shower.
The same will hold true Thursday and Friday, but much more sunshine arrives this weekend which will help keep highs in the low to middle 80s, but should drop into the upper 70s and lower 80s early next week.
TROPICS: Hurricane Maria remains a major category 4 hurricane as it approaches the island of Puerto Rico from the southeast. Life-threatening conditions are possible across most of the island for much of Wednesday.
The latest forecasts have trended it toward the southeastern Bahamas this weekend, but then staying off shore from the U.S. mainland, which would be good news, but we still need to monitor future forecasts.
Hurricane Jose's outer bands continue to bring heavy rain and strong wind to the mid-Atlantic and northeastern State. This will continue for a couple more days, move out to see and then curl back southeast.
There's the off chance that these two storms could interact with one another and possibly push one of them inland, so we have to wait and see if/when that would happen.
For a more in-depth look at Maria and Jose's potential U.S. impacts, click here
Copyright 2017 FOX Carolina (Meredith Corporation). All rights reserved.