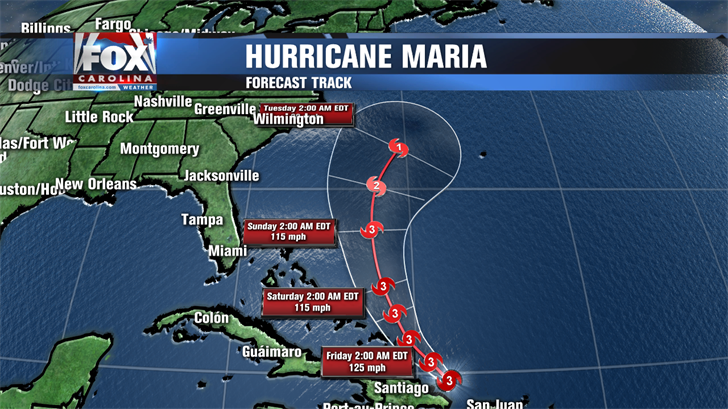 Warm weather with isolated afternoon storms for a couple more days as Maria continues to churn in the Atlantic.
Today being the last day of summer brings summertime warmth with highs in the 80s. A few showers and storms are possible this afternoon, mainly in western NC.
Friday brings similar weather with perhaps a slightly smaller risk of afternoon rain. Highs stay in the 80s.
Sunny and nice weather is expected for the weekend with no chance of rain. Afternoon highs will remain in the 80s, and overnights drop to the 60s.
IN THE TROPICS, Maria should maintain major hurricane status into the weekend as it moves northwestward. Impacts will still be felt in the southeastern Bahamas and parts of the Dominican Republic though no direct landfall is expected.
The latest track of Maria turns the system northward over the weekend, and perhaps northeastward early next week. This is good news for the U.S. east coast! For more on Maria and whether or not it will affect the U.S., click here.
Jose remains a tropical storm but should gradually weaken over the next 3-5 days as it meanders over the cooler waters of the northern Atlantic.
Copyright 2017 FOX Carolina (Meredith Corporation). All rights reserved.