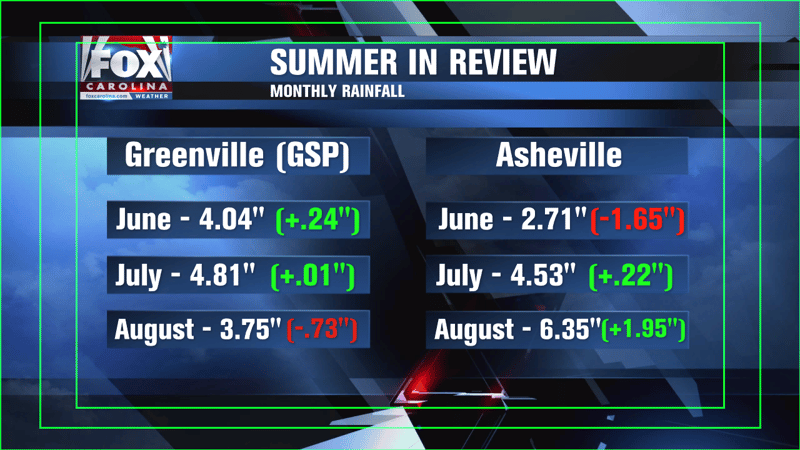 GREENVILLE, SC (FOX Carolina) -
As the summer season comes to a close, a look back reveals no major extreme floods, droughts, or heat waves occurred.
In the month of June, the Greenville-Spartanburg International Airport (GSP) recorded an average high temperature of 84.4 degrees, which is below the average of 87.5 degrees. Asheville was right on par with its average high temperature – 81 degrees.
In July, GSP recorded slightly higher than average high temperatures (91 degrees) while the normal is 90 degrees. Asheville was similarly warmer than average as well, checking in at 86 degrees for an average high (normal is 84 degrees).
During the month of August, GSP was slightly cooler than normal with its average high of 87 degrees. This is 2 degrees below the normal monthly max temperature of 89 degrees. Asheville was also cooler with an average high temperature of 82 degrees (normal is 83 degrees).
Concerning rain totals, Asheville was substantially below-average in June but saw a surplus by August. GSP saw generally uniformly average rain through the summer months.
This will be updated when monthly data from September are available. All data were obtained from the National Weather Service.
Copyright 2017 FOX Carolina (Meredith Corporation). All rights reserved.