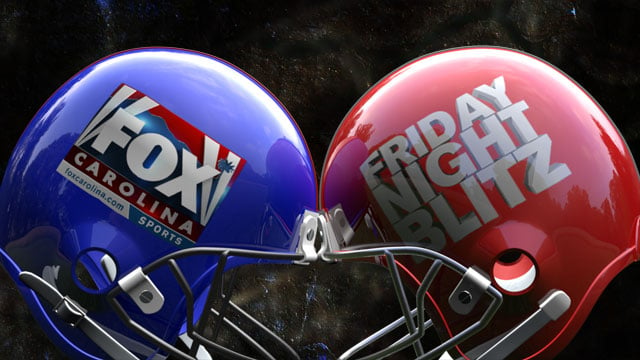 (FOX Carolina) -
The Boiling Springs Bulldogs will head to Dorman to face the Cavaliers in the week six Friday Night Blitz Game of the Week.
Shannon Sommerville will be live from Dorman with highlights at 10:30 p.m. on FOX Carolina.
Aaron Cheslock will be in the studio with highlights filmed by FOX Carolina crews at the following games:
Spartanburg vs. Byrnes
Chapman vs. Clinton
St Joseph's vs. Christ Church
Wren vs. Daniel
Easley vs. TL Hanna
Union County vs. Eastside
Greenville vs. Pickens
Greer vs. Travelers Rest
Mauldin vs. Riverside
Woodmont vs. Westside
Friday Night Blitz will also feature final scores for the following games:
Hartsville vs. Abbeville
Berea vs. Southside
Mid-Carolina vs. Broome
Mccormick vs. Calhoun Falls
Powdersville vs. Carolina Academy
Chesnee vs. Landrum
Walhalla vs. Crescent
Palmetto vs. Emerald
Rock hill vs. Gaffney
Wade Hampton vs. Greenwood
Hillcrest vs. Laurens
Newberry vs. Woodruff
West-oak @ Pendleton
Ware shoals vs. Whitmire
Blacksburg @ East Gaston (NC)
Also visit FOX Carolina's Friday Night Blitz page for photos, score updates, videos, and more.
Copyright 2017 FOX Carolina (Meredith Corporation). All rights reserved.