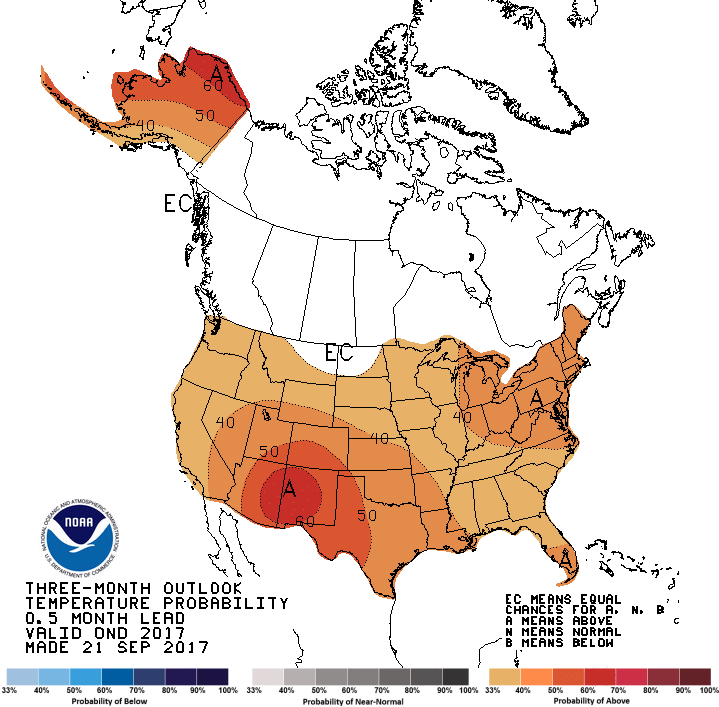 Source: Climate Prediction Center
Where's Fall? The season started on a warm (record warm at times) note, but after about a week, it seemed like Mother-Nature had finally gotten the memo and cooled us down to the 70s.
Then before we knew it, we were back in the 80s, and above average for the time of year.
Since the official start of the season on September 22, GSP has only seen 3 days at or below average in terms of high temperature, and Asheville only 2.
The most recent 3 month temperature outlook put out by the Climate Prediction Center gives the southeast (and most of the country) a BETTER CHANCE of above normal temperatures happening than at or below normal ones.
This DOES NOT mean that every single day will be above average as we'll still be prone to our usual cool snaps and temperature swings, but it would not be a huge surprise to end the season of Fall with more above average days than below average ones.
If this were to happen, and winter begins on the warm side, the warm ground would make it a little more difficult for snow to stick and accumulate if there were an early winter storm in our area.
Copyright 2017 FOX Carolina (Meredith Corporation). All rights reserved.