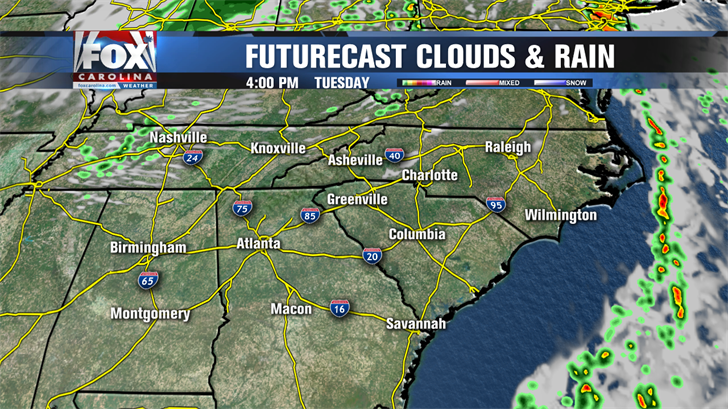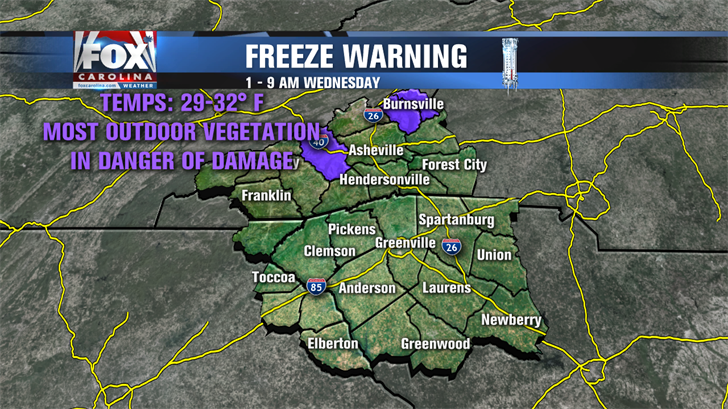 In the wake of Monday's storms, clearer skies, a breeze, and cooler temperatures linger for the remainder of the week.
Today, expect mostly sunshine with highs ranging from the mid to upper 60s. A strong breeze will build in, gusting up to 25 mph across the area at times.
Tonight, calmer wind and clear sky allows lows to drop even cooler. Upstate areas should expect lows near 40, with the 30s in western NC. Haywood, Mitchell, and Yancey counties are under a Freeze Warning from 1-9am Wednesday, so take care of any sensitive vegetation.
Tomorrow will be the coolest day of the work week, with highs staying in the 50s and lower 60s under a sunny sky.
Thursday and Friday warm slightly in the afternoons, back into the 60s and low 70s, but nights stay chilly in the 30s and low 40s. The next cold front bringing wet weather will push into the area over the weekend, with rain likely by Saturday evening.
From Monday's storms, some flooding continues in some streams and rivers in western NC, for more on the record rain that fell Monday, check HERE.
For more on the NWS tornado surveys, check HERE.