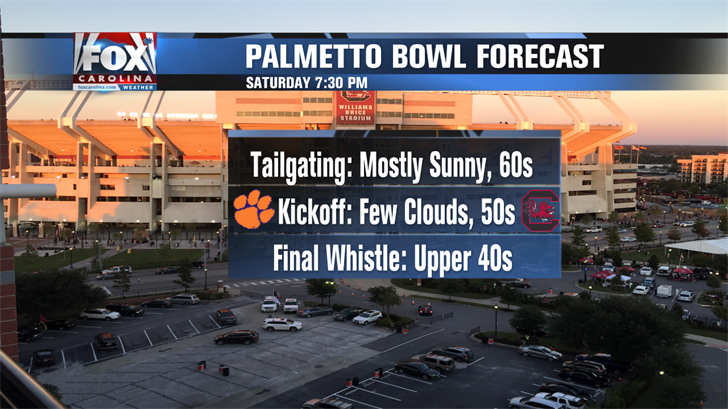 Temperatures will continue to be near or above average over the next week with very limited rain chances.
Clouds will continue to move across the area during the day Saturday, but temperatures should still be able to make it into the lower and middle 60s thanks to a steady southwesterly wind in the Upstate.
Weather conditions in Columbia for the Palmetto Bowl look a bit sunnier during pregame festivities which means temperatures might even stand a chance at nearing 70 degrees late in the afternoon.
However during the game itself, they'll fall into the 50s and 60s, so you might still want a jacket. Sunday will be sunny for all and a touch cooler than Saturday, but still tolerable with upper 50 to lower 60 degree highs.
Expect a warming trend for the first half of the week ahead of a small disturbance that will bring us a slight chance for rain on Thursday.
Copyright 2017 FOX Carolina (Meredith Corporation). All rights reserved.