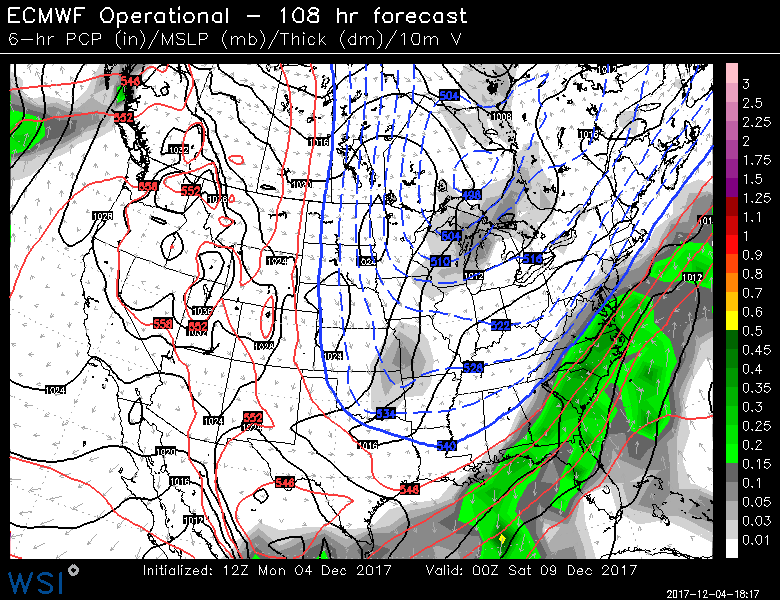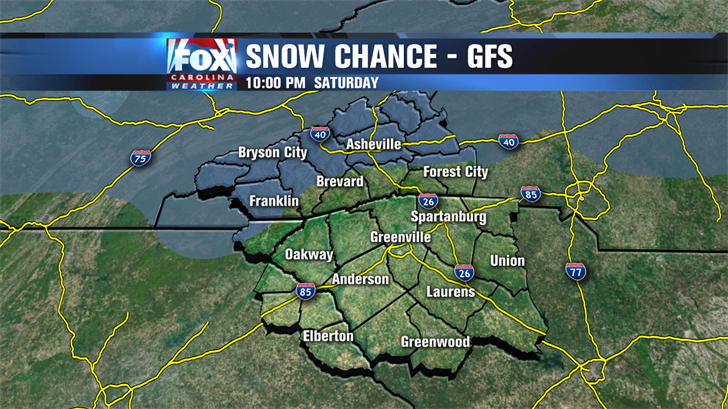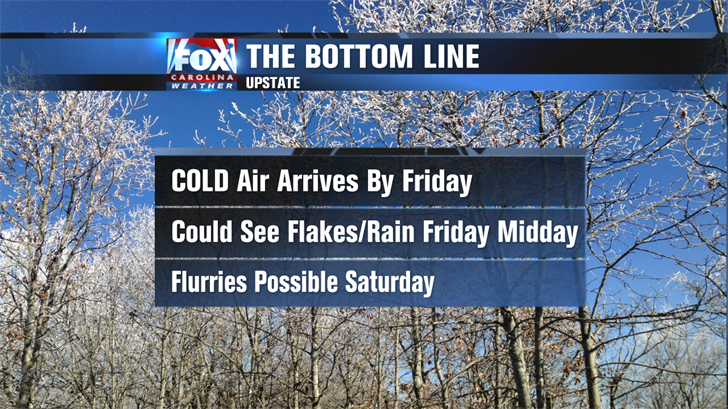 GREENVILLE, SC (FOX Carolina) -
A COLD blast will strike the area late this week, and as that colder air settles in, we'll have a couple opportunities for snow across our area. The mountains stand the best chance for seeing any white stuff, but the Upstate MIGHT get some light snow showers on Friday or perhaps late Saturday. Our two long range models are not in very good agreement, so let's talk about the options...
GFS Model - This is the American model. It has the cold air blasting in and pushing to the coastline. This could effectively keep most of the moisture away from our area as a low develops near the coast (along the divide line between the warmer and cold air). A quick moving disturbance will dive south into Saturday, and the air will certainly be cold enough to support snow, but it looks like only a quick, light snow for western NC...only resulting in some frivolous flurries in the northern Upstate.
Euro Model - This model is not as aggressive with the cold air... It would stall the cold front just south of our area on Thursday, then as moisture rides along the front we could see some light snow showers on Friday (along with a rain/snow mix south of I85 - see attached image). Temps at the surface would be above freezing, so limited issues would be expected from any scattered snow showers. Temps would be borderline for snow in the scenario across the Upstate, so it could be a rain/snow mix. It would wrap up by midnight Friday night. If we did see much rain/snow, we would have to watch out for black ice Saturday morning, but it shouldn't be a widespread issue. Euro also wants to bring in some mountains snow for late Saturday night into Sunday.
BOTTOM LINE - Friday into Saturday will be a timeframe to watch closely! I'm not seeing indications of a winter storm at all, but there's a chance we could see our first flakes of the season outside the mountains. Up to 1-3" of snow could fall in spots in the mountains of western NC with little to NO accumulation expected in the Upstate. We'll keep you posted throughout the week.