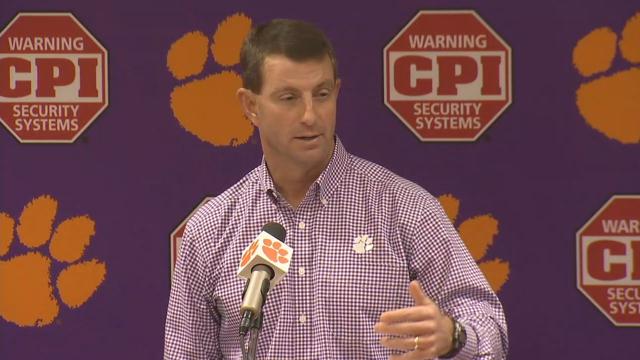 Dabo Swinney (Nov. 7, 2017/FOX Carolina)
CLEMSON, SC (FOX Carolina) -
Clemson head coach Dabo Swinney and his players will give Nike shoes and a special experience to 200 children Monday at Clemson's Football Complex, according to a news release from the university.
Dabo's All in Team Foundation; PAW (Passionate About Winning) Journey, a program-wide initiative for Clemson football players and staff which aims to cultivate leadership via personal growth and professional development; and the Call me MISTER (Mentors Instructing Students Toward Effective Role Models) initiative, which aims to inspire more students in South Carolina to become teachers, will host the event, titled "PAW Journey: Kicks, Swinney Cleats, & Kids."
Swinney will speak and football players will place shoes on children's feet as part of "an experience designed to motivate and inspire them to better understand the link between strong personal character, commitment to academic success and positive life outcomes," the news release states.
MORE NEWS: Carolina Panthers owner Jerry Richardson to put team up for sale
Copyright 2017 FOX Carolina (Meredith Corporation). All rights reserved.