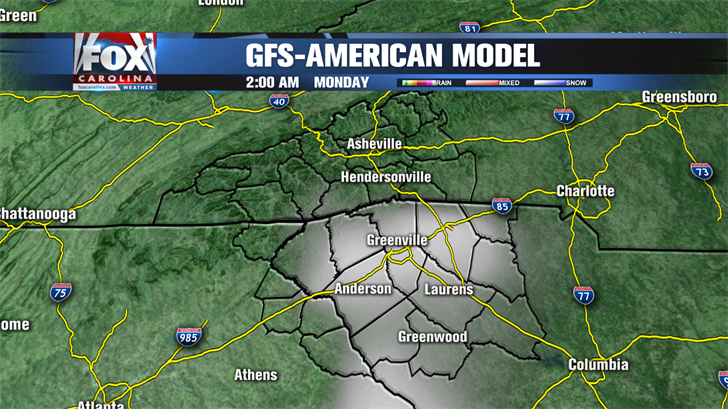 Some light snow and rain could impact our area late New Year's Eve night into New Year's Day as some extremely cold air moves in. The models have been back and forth on this, so nothing is set in stone as of yet. Here's the latest...
The GFS (American) model, had been showing a pretty big snow for our area over the last few days. The latest computer run, however, backs off the chance for rain or snow entirely, and just shows some passing clouds moving through the area on Sunday night into the early hours of New Year's Day.
The European model has shown that time period dry up until now. Currently the latest Euro model information pushes a very small pocket of passing snow showers through western NC late Sunday night into Monday morning.
The Canadian model shows dry conditions still.
Here are the take-home messages:
- Generally dry conditions are expected with the cold blast of Arctic air on the way
- Spotty snow showers are possible, especially in the mountains from late Sunday night into Monday morning. Flurries could be seen in the northern Upstate.
- Temps will be so cold to where any moisture that falls could cause slick spots on roads for early Monday and lasting into Tuesday.
We'll continue to monitor any changes to this forecast as we close in on the end of the year.