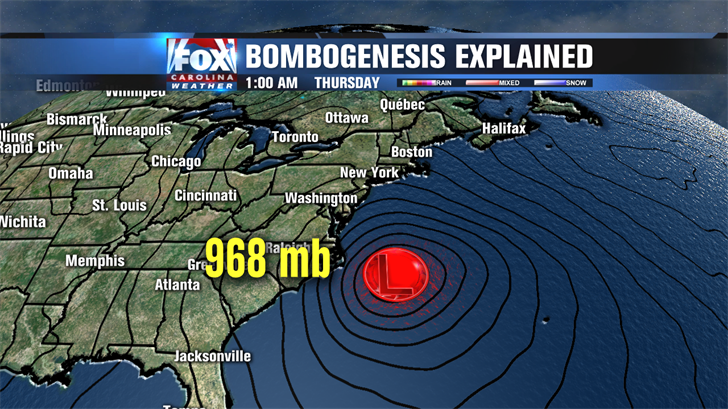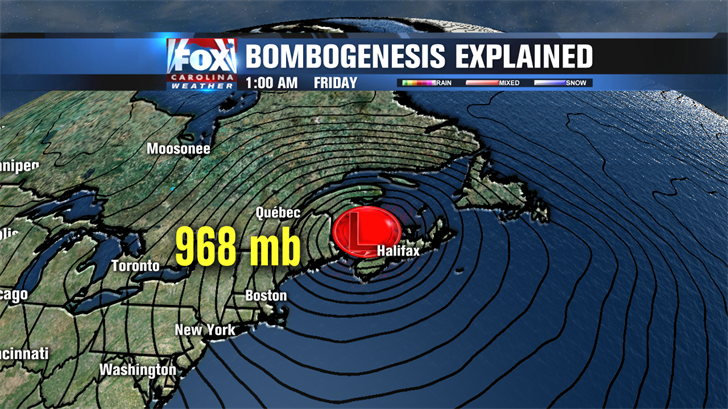 There's been a lot of talk about the so-called "bomb cyclone" that is bringing heavy snow and strong wind to most of the U.S. east coast.
What that's actually referring to is when a storm "bombs out" which is when the central pressure of a storm decreases at least 24 millibars in 24 hours. This is what's known as "bombogenesis" in meteorology.
If you look at the two pictures above, one shows the center of the storm at 992 millibars at 1 AM Thursday, and the other shows the same storm at 1 AM Friday with a central pressure of 968 millibars.
The lower the pressure is in a storm, the stronger it is and the stronger the winds will be in the areas surrounding it. The black lines in the pictures are lines of equal pressure, and the quicker the change in pressure, the faster air is transferred across the lines as air naturally flows from high to low pressure.
This strong change in pressure or "pressure gradient" is fairly common with these winter storms that form over the Atlantic Ocean and hit the northeastern United states with snow and strong northeasterly winds. This is why they're often referred to as "nor-easters."
This strong gradient is caused by the big difference in temperature and moisture between the dry cold air moving south from Canada, and warm moist air coming in from the Atlantic Ocean and Gulf of Mexico.
So, next time you hear of something like "bomb cyclone," "atmospheric bomb," or a storm "bombing out," they're likely referring to bombogenesis.
Copyright 2018 FOX Carolina (Meredith Corporation). All rights reserved.