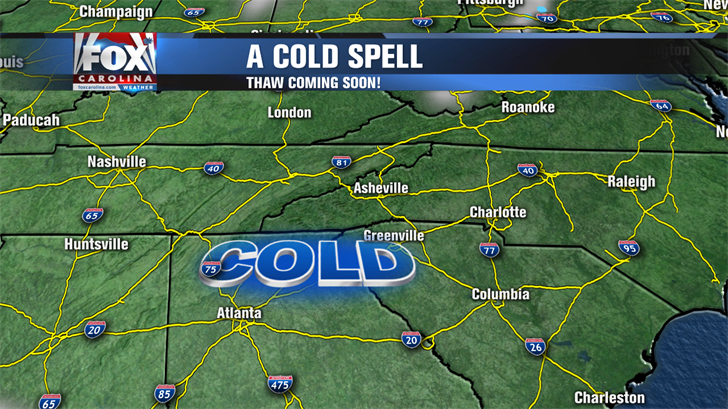 GREENVILLE, SC (FOX Carolina) -
The COLD WAVE continues but thankfully doesn't typically happen very frequently around this area.
The current period of frigid temperatures is something that typically lasts a day or two, then conditions warm back to "normal."
This time around, the brutally cold air has remained in place long enough to be considered a "cold wave."
A "cold wave" can be defined when mean daytime temperature is less 30 degrees F for at least two days in a row.
The last time a "cold wave" hit the Upstate (specifically GSP) was back in January 2011.
According to the National Weather Service, the mean temperature did not exceed 30 degrees for a six-day period from Jan 8 to Jan 14.
If the forecast pans out over the weekend, we will have a total of EIGHT days at GSP where the mean temperature would remain below 30 degrees F. This would be the 3rd longest cold wave on record, per the NWS.
Thankfully, a Carolina thaw will come next week where highs *hopefully* make a return to the 40s and 50s!
Copyright 2018 FOX Carolina (Meredith Corporation). All rights reserved.