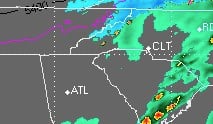 Saturday's rain forecast is still on track, but some areas along the Tennessee border, especially elevations above 5000 feet, could have some light accumulating snow.
Snow-lovers and those who just don't want to let go of Winter, that's where you'll want to go on Saturday.
Timing-wise, the rain to snow transition will happen during the late afternoon and then continue during the evening and overnight Saturday.
Accumulations won't be very high, but in the 1-2 inch range at the most, but safe to say some flying flakes and beautiful mountain are in the cards.
Just exercise caution if you do decide to drive up that way with rain falling during the day Saturday making the roads a little slick.
Copyright 2018 FOX Carolina (Meredith Corporation). All rights reserved.