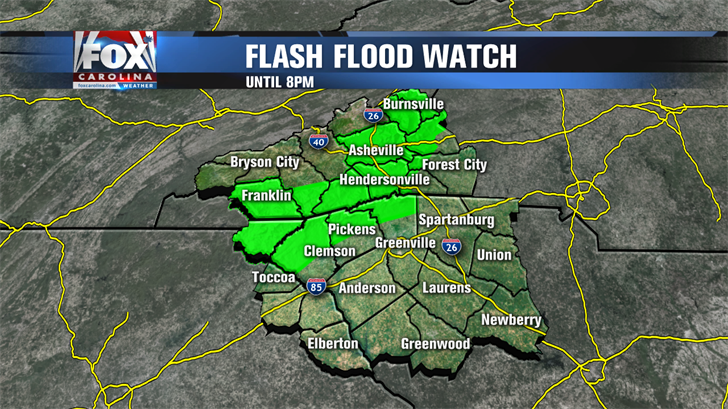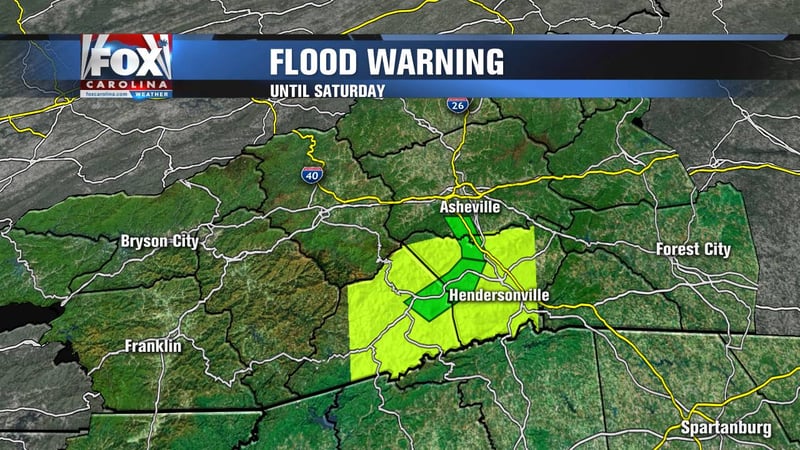 GREENVILLE, SC (FOX Carolina) -
Flood potential will continue into parts of the weekend as rain/storm chances remain high.
A Flash Flood Watch remains in effect until 8 PM for the mountains of the Upstate into most of western NC. Given recent heavy rains, any additional showers will create at least some flood potential…especially for smaller creaks, streams, and rivers.
A Flood Warning is in place for the French Broad River at Blantyre and Fletcher. The warning goes until 2pm Saturday, with the river expected to crest sometime in the early morning hours Saturday.
Scattered showers and storms will continue this afternoon and tonight, but it won't be a complete washout and in the absence of rain, expect lots of clouds! Temperatures will be in the 70s to low 80s, especially if any peeks of sun get through the thick cloud deck.
Saturday looks to have elevated rain chances as well as another upper-air disturbance edges closer from the west. Sunday may be a little drier in spots, but there will still be isolated to scattered showers and storms, mainly in the afternoon.
Next week will continue the shower chance each day – for now, there will be a 40-50% chance of afternoon-driven showers and storms with highs generally in the 80s.
Copyright 2018 FOX Carolina (Meredith Corporation). All rights reserved.