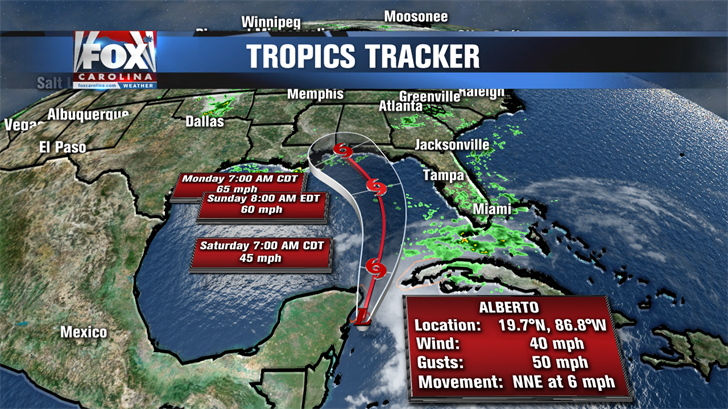 GREENVILLE, SC (FOX Carolina) -
For the 4th year in a row, a storm has been named ahead of the official start to "hurricane season". Subtropical Storm Alberto has formed near the Gulf of Mexico, and will track closer to the Gulf coast through the holiday weekend, sending widespread rain to the southeast.
Currently, the storm is near the Yucatan Peninsula of Mexico. It's expected to stay at "tropical storm" status through the duration of its life, not strengthening into a hurricane.
Here's the local forecast pertaining to the system:
Today, no tropical impact. Expect your run of the mill showers and pop up storms as highs reach 80 degrees. Wet weather will be most likely in the late afternoon and evening.
Saturday and Sunday look wet at times, but there should be some intervals of sun…especially on Saturday. Highs stay in the 70s and lower 80s.
Alberto will begin to bring us rain on Sunday night, but the rain chance looks to tick up more so beginning on Memorial Day and lasting through at least Wednesday. Afternoon highs each day should hover near 80 degrees in the Upstate.
Rain totals over the next 5-7 days should reach the 2-4" range with locally higher amounts. Unfortunately, this will lead to some flood/flash flood potential for some spots.