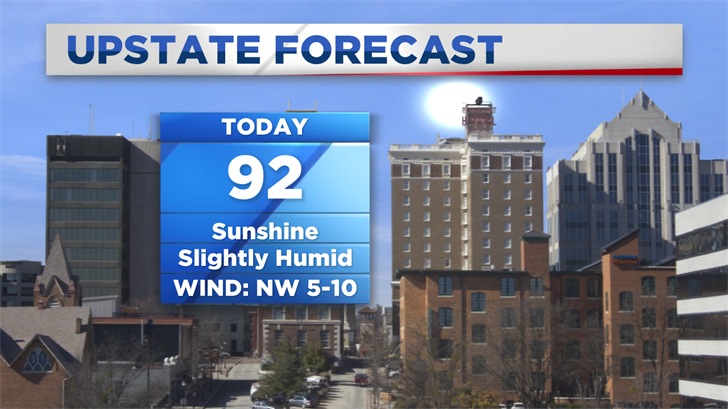 GREENVILLE, SC (FOX Carolina) -
The weather stays dry and warmer Tuesday ahead of storm chances later in the week.
Today, the heat levels rises to the upper 80s and low 90s with a mostly sunny sky. While it will be hotter than prior days, humidity levels will remain bearable.
A few showers become possible by Wednesday afternoon as better moisture works back into the area. The best chance of spotty rain will be in the mountains.
Thursday looks to have this week's best rain chance this week. Most of these showers and storms will occur during the typical afternoon and early evening hours, and will be fairly scattered in nature.
Friday and into the weekend – while isolated showers or storms are possible each afternoon, no particular day looks wetter than the other. Expect highs in the 80s to near 90 degrees.
In the tropics, Chris is forecast to become a hurricane Tuesday as it finally gets a nudge to the northeast away from the Carolina coast vicinity. The remnants of Beryl could regenerate in the Bahamas later in the week, but that system too will follow a northeast path and is not expected to impact the east coast.
Copyright 2018 FOX Carolina (Meredith Corporation). All rights reserved.