Roswell family from Ukraine caught in the conflict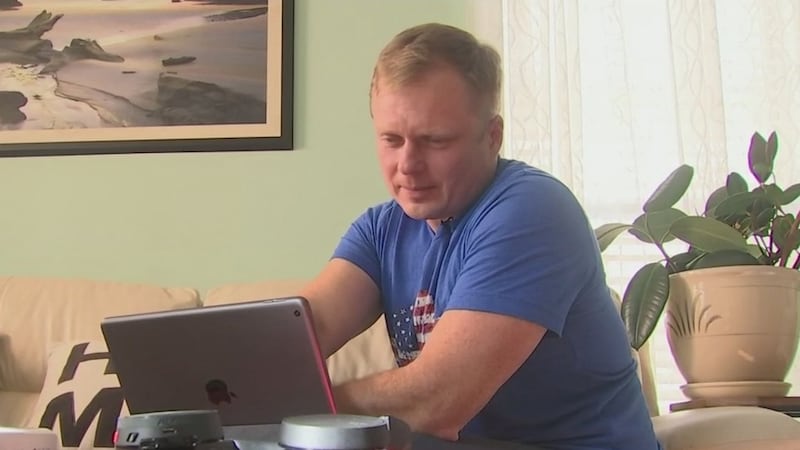 Published: Feb. 25, 2022 at 11:06 PM EST
ROSWELL, Ga. (CBS46) - On Friday evening, Andriy Khomenko got a phone call from his dad, living outside Kiev, who told him that airstrike alerts just rang out in the capitol city.
"They just announced air bombardment alerts and everybody should take shelter," said Khomenko who translated the conversation into English.
Khomenko explained that through updates from his dad, he's watched the conflict intensify in his homeland in the course of a few hours.
Around 11 a.m., Khomenko said his dad was being told to stay indoors to avoid contact with potential Russian special operations troops patrolling neighborhoods.
Just five hours later, his dad was reporting hearing those alerts of airstrikes.
Khomenko reported that some of his family members have tried to flee the heart of the conflict. Other family members, he said, have elected to stay and fight.
He said, for many in Kiev, there is an aching for this years-long conflict to resolve, knowing that they may come with warfare.
"The men there, the spirit is, just let them come."
Two weeks ago, anticipating a potential war, Khomenko convinced his family to send his mother-in-law to Roswell for safety.
She now lives with Khomenko and his family in Roswell.
Khomenko, a U.S. citizen, moved to Atlanta in 2006. He said he approaches the conflict in his homeland with a western perspective, understanding many of the geopolitical calculations are being made with his family at stake.
"Ukraine has traditionally played the role of pawn in the games of big powers for centuries. As far as the people of Ukraine, the scenario they still need to play out is to fight. They need to win, the world needs them to win," Khomenko said.
Copyright 2022 WGCL. All rights reserved.