Senate to vote this weekend on bill intended to curb inflation
The Inflation Reduction Act proposes cuts to the nation's deficit, while making investments in climate programs and changes to Medicare drug negotiations.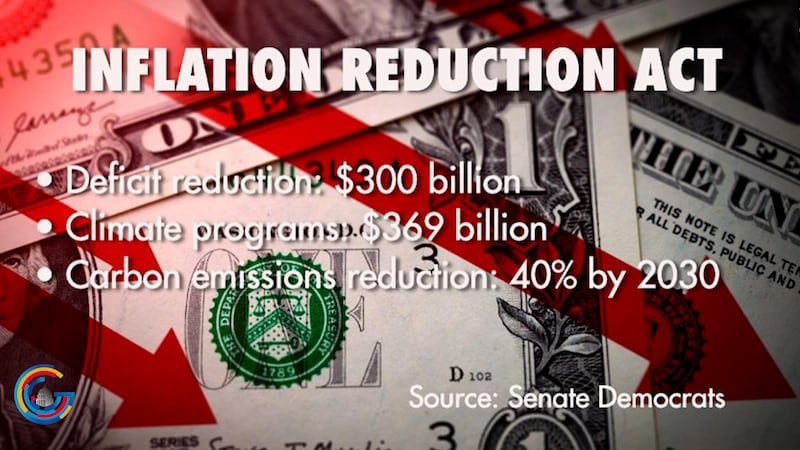 Published: Aug. 5, 2022 at 3:13 PM EDT
WASHINGTON (Gray DC) - The Senate could vote as early as Saturday on the Inflation Reduction Act.
The legislation proposes approximately $300 billion in deficit reduction and $369 billion in climate programs, intended to reduce carbon emissions by nearly 40% by 2030. It also allows for Medicare to directly negotiate drug prices with pharmaceutical companies.
"This is a great step forward," said Senator Tammy Duckworth (D-Ill.).
She says in addition to bringing down gas prices, this bill would help bring more green energy jobs to the state of Illinois.
"Right now in the program, $500 million for biofuels and ethanol. Illinois is one of the nation's leading producers of ethanol," said Duckworth.
But, Senator John Cornyn (R-Texas) calls the legislation "false advertising."
"It doesn't do anything to address inflation any time soon," said Cornyn.
Cornyn said the Inflation Reduction Act is similar to the $2 trillion Build Back Better Act which failed to pass the Senate late last year.
"This is admittedly a smaller version of that incredibly expensive and ridiculously extravagant bill," said Cornyn.
President Biden says he's looking forward to the Senate taking up the legislation issuing a statement which says the bill proposes "no new taxes on families making $400,000 or less as well as no new taxes on small businesses.
Copyright 2022 Gray DC. All rights reserved.