Public viewing at palace for 'last Hawaiian princess'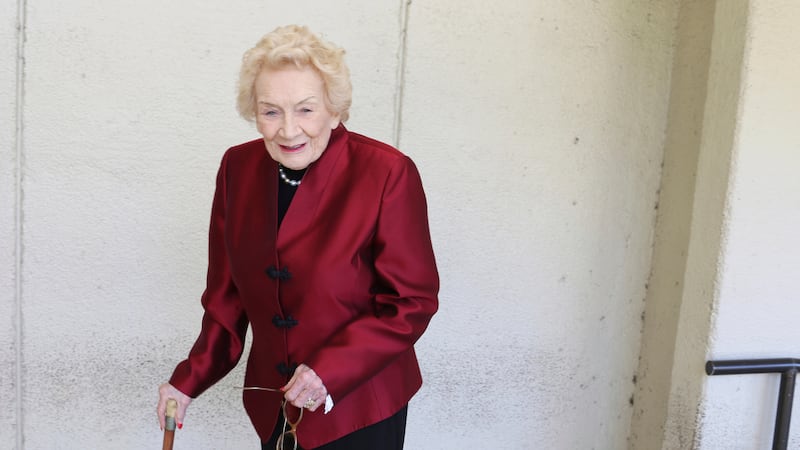 Published: Jan. 22, 2023 at 4:07 PM EST
|
Updated: Jan. 22, 2023 at 7:49 PM EST
HONOLULU (AP) — The casket bearing the 96-year-old heiress long considered the last Hawaiian princess went on public display Sunday in the downtown Honolulu palace that benefited from her wealth.
Abigail Kinoiki Kekaulike Kawānanakoa's casket, handcrafted from a 165-year-old koa tree that fell during a 2021 storm on the Big Island, arrived at ʻIolani Palace in a hearse. It was greeted by a traditional Hawaiian wailing and a chanting of her lineage before being carried by members of a law enforcement honor guard up the palace's front stairs and into the throne room.
Family spokesperson Caroline Witherspoon called the procession "extremely emotional," saying, "The wailing — it was just beautiful. It just caused a visceral reaction for me. I started to cry."
The palace is America's only royal residence, where the Hawaiian monarchy dwelled but now serves mostly as a museum. Kawānanakoa was the palace's largest single benefactor, according to her publicists, and even paid its electricity bills for many years.
Members of the public were allowed to line up to view her casket and weren't required to wear the shoe coverings that palace visitors normally have to wear as a preservation precaution. A carpet for mourners to walk on was temporarily installed for the viewing.
The viewing was scheduled to end at 8 p.m. local time.
Kawānanakoa diedat her home in Nuuanu, near downtown Honolulu on Dec. 11. She died "peacefully" with her wife, Veronica Gail Kawānanakoa, 70, at her side, according to a news release.
"Abigail will be remembered for her love of Hawaii and its people," her wife said in the release, "and I will miss her with all of my heart."
Kawānanakoa held no formal title but was considered a princess because her lineage included the royal family that once ruled the Hawaiian islands. She was a reminder of Hawaii's monarchy and a symbol of its national identity that endured after the kingdom was overthrown by American businessmen in 1893.
In 1895, an unsuccessful attempt by Hawaiian royalists to restore Queen Liliʻuokalani to power resulted in her arrest. She was put on trial before a military tribunal in her own throne room. After she was convicted, she was imprisoned in an upstairs bedroom of the palace for nearly eight months.
Kawānanakoa inherited her wealth from her great-grandfather, Irish businessman James Campbell, who made his fortune as a sugar plantation owner and one of Hawaii's largest landowners.
He had married Abigail Kuaihelani Maipinepine Bright. Their daughter, Abigail Wahiika'ahu'ula Campbell, married Prince David Kawānanakoa, who was named an heir to the throne. Their daughter then went on to give birth to Abigail.
After the prince died, his widow adopted their grandchild, Abigail, which strengthened her claim to a princess title.
She received more Campbell money than anyone else and amassed a trust valued at about $215 million.
In 2017, a court battle began over control of her trust after she suffered a stroke. In 2018, Kawānanakoa attempted to amend her trust to ensure that her wife would receive $40 million and all her personal property, according to court records.
Three years later, a judge ruled that Kawānanakoa was unable to manage her property and business affairs because she was impaired.
Kawānanakoa gained notoriety when she sat on an ʻIolani Palace throne for a Life magazine photo shoot in 1998. She damaged some of its fragile threads.
The uproar led to her ouster as president of Friends of ʻIolani Palace, a position she held for more than 25 years.
In addition to the palace's upkeep, Kawānanakoa funded various causes over the years, including scholarships for Native Hawaiian students, opposition to Honolulu's rail transit project and protests against a giant telescope. She also donated items owned by King Kalākaua and Queen Kapiʻolani for public display, including a 14-carat diamond from the king's pinky ring.
On Friday, Gov. Josh Green ordered that U.S. and Hawaii state flags be flown at half-staff at the state Capitol and state offices through sundown Monday for her funeral services.
A private funeral service is scheduled for Monday at Mauna ʻAla, also known as Royal Mausoleum State Monument, which is the burial place of Hawaiian royalty.
Copyright 2023 The Associated Press. All rights reserved.