Man who propped feet on Pelosi desk found guilty in Jan. 6 case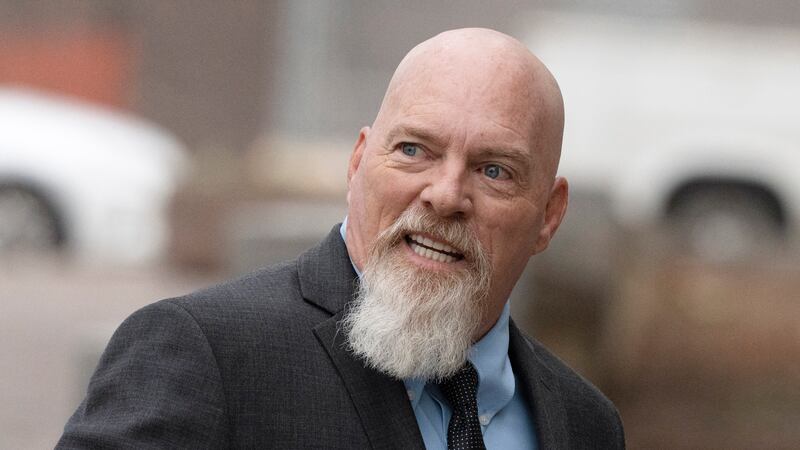 Published: Jan. 23, 2023 at 12:19 PM EST
|
Updated: Jan. 23, 2023 at 1:05 PM EST
WASHINGTON (AP) — An Arkansas man who propped his feet up on a desk in then-House Speaker Nancy Pelosi's office during the U.S. Capitol riot was convicted on Monday of joining a mob's attack on the building two years ago.
A jury deliberated for approximately two hours before unanimously convicting Richard "Bigo" Barnett on all eight counts in his indictment, including felony charges of civil disorder and obstruction of an official proceeding.
Barnett lounging at a desk in Pelosi's office made him one of the most memorable figures from the riot on Jan. 6, 2021, the day when Congress convened a joint session to certify President Joe Biden's electoral victory.
U.S. District Judge Christopher Cooper is scheduled to sentence Barnett on May 3. The judge agreed to let Barnett remain free on certain conditions until his sentencing.
Outside the courthouse after the verdict, Barnett vowed to appeal his conviction, calling it an "injustice." He noted that the judge had rejected his request to move his trial from Washington to Arkansas.
"This is not a jury of my peers," he told reporters.
Prosecutors asked the judge to jail Barnett while he awaits sentencing. Justice Department prosecutor Alison Prout said the jury concluded that Barnett took a weapon into Pelosi's office.
"We can only imagine what would have happened if (Pelosi) had been there at the time," Prout said.
Barnett, 62, testified last Thursday that he was looking for a bathroom inside the Capitol when he unwittingly entered Pelosi's office and encountered two news photographers. He said one of the photographers told him to "act natural," so he leaned back in a chair and flung his legs onto the desk.
"Did it dawn on you that what you were doing could cause some trouble?" defense attorney Joseph McBride asked Barnett.
"I was just in the moment," Barnett replied. "I'm just kind of going with the flow at this point."
Barnett's decision to testify was "unequivocally the right one," his lawyer told reporters after the verdict.
"He had a story that needed to be told," McBride said. "People needed to know why he came here, what his intentions were and what he did while he was here."
Prosecutors said Barnett had a stun gun tucked into his pants when he stormed the Capitol and invaded Pelosi's office. Barnett was convicted of entering and remaining in restricted building or grounds with a deadly or dangerous weapon — a stun gun with spikes concealed within a collapsible walking stick.
Barnett took a piece of her mail and left behind a note that said, "Nancy, Bigo was here," punctuating the message with a sexist expletive. The jury convicted of a theft charge for taking the envelope from Pelosi's office.
Before leaving Capitol grounds, Barnett used a bullhorn to give a speech to the crowd, shouting, "We took back our house, and I took Nancy Pelosi's office!" according to prosecutors.
Videos support Barnett's testimony that a crowd pushed him into the Capitol as he approached an entrance, causing him to briefly fall to his knees as he crossed the threshold.
"We have no choice!" he shouted repeatedly as he entered the Capitol.
After police ordered him and others to leave Pelosi's office, Barnett realized he had left his American flag behind. Body camera video captured Barnett shouting at a police officer in the Rotunda for help in retrieving the flag.
More than 940 people have been charged with federal crimes related to the Jan.6 attack. Nearly 500 of them have pleaded guilty. Barnett is one of several dozen Capitol riot defendants whose case has gone to trial.
Barnett is a retired firefighter from Gravette, Arkansas. He said he regrets coming to Washington for the "Stop the Steal" rally where then-President Donald Trump addressed a crowd of supporters.
"Two years of lost life. Misery for my family," he said.
While on house arrest last year, Barnett raised money by charging donors $100 for photos of him with his feet on a desk.
A prosecutor told jurors during the trial's opening statements that Barnett planned the trip for weeks and came prepared for violence.
McBride told jurors that Barnett was just a "crazy guy from Arkansas" who didn't hurt anybody on Jan. 6 and couldn't have harmed anybody with the stun gun device because it was broken that day. McBride sarcastically called it "the most famous trespass case of all time."
Prosecutors said Barnett had a history of arming himself at political demonstrations. In July 2020, they said, a 911 caller reported that a man matching Barnett's description had pointed a rifle at her during a "Back the Blue" rally.
"Law enforcement ultimately closed the investigation as unfounded due to unresolved apparent discrepancies in the evidence," prosecutors wrote.
In November 2020, police were called to a "Save the Children" rally when a caller said Barnett was carrying a gun at the protest and acting suspiciously.
Copyright 2023 The Associated Press. All rights reserved.