Clemson University to host orchestra from Ukraine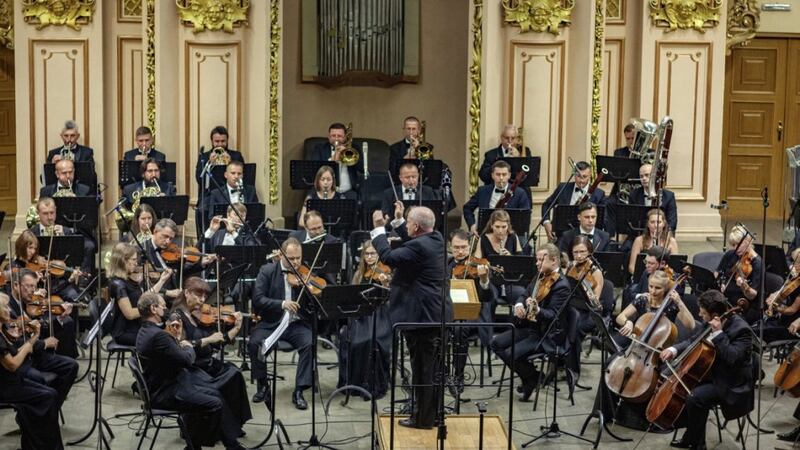 Published: Jan. 24, 2023 at 11:59 AM EST
CLEMSON, S.C. (FOX Carolina) - As war in Ukraine makes continued headlines, a group of Ukrainian musicians has pledged to carry the spirit of their homeland and perform at Clemson University as part of a 40-date U.S. tour.
Lviv National Philharmonic Orchestra of Ukraine will play at Clemson's Brooks Center for the Performing Arts on Tuesday, Jan. 24.
Janice Crews, executive director of the Brooks Center, said she hopes that community support will bring a large group of Ukrainians together and lift the spirits of everyone in the audience and on the stage alike.
The orchestra is the oldest in Ukraine and has toured the world including Poland, Italy, Spain, France, Switzerland, Germany, the Netherlands and The People's Republic of China.
The orchestra is conducted by American conductor of Ukrainian origin, Theodore Kuchar, who said getting in and out of Ukraine is a luxury few have right now, and every member of the orchestra will be leaving their families behind under incredibly difficult circumstances.
"My colleagues and I represent the country and its culture as Ukraine's preeminent cultural ambassadors," said Kuchar. "Of course, life in Ukraine at present is extremely difficult, both in terms of survival but also in a practical sense. Members of the orchestra, or their spouses or family members, have voluntarily served in the armed forces. Many have returned, some have not. Someone has lost an arm, somebody a leg. Absolutely nothing can be taken for granted and you never know who may be present in what audience — never! Our program at Clemson University presents the combination of repertoire that motivated each of my colleagues to devoting our lives to becoming highly skilled, classical performers."
Tickets are $40 for adults.
The Brooks Center is seeking donations to offer as many as 250 of those refugees and their host families tickets to attend the Clemson musical event. To donate or sponsor tickets for local Ukrainian refugees and their host families, click here.
For more information about tickets and giving, contact Renee Dooley at rdooley@clemson.edu.
MORE NEWS: 'Uncomfortable and upsetting:' Upstate representative files bill to ban teaching of slave owners
Copyright 2023 WHNS. All rights reserved.