Clemson University students speak on bake sale controversy
Published: Feb. 3, 2023 at 7:22 AM EST
CLEMSON, S.C. (FOX Carolina) - There's controversy over a bake sale on the campus of Clemson University and now, some students are speaking out.
Clemson's Turning Point USA chapter hosted a affirmative action bake sale on library bridge Wednesday afternoon. The group had a poster that had different prices of cookies for different races on it.
The sign had the following prices for each race:
Asian - $1.50

White - $1.00

Hispanic - $0.50

Black - $0.20

Native American - Free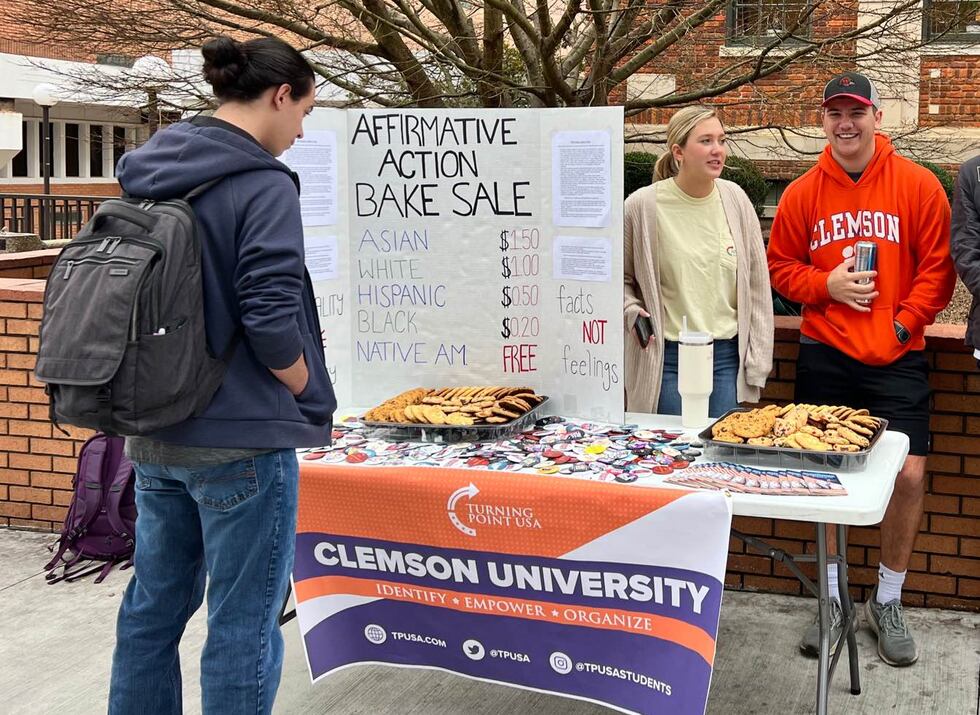 "We are trying to highlight the unfairness of college admission process that use affirmative action programs and how they lower the standards for certain races," Taylor Rogers, president of Turning Point USA Clemson, said. "We think everyone should be held to the same standard so we're just trying to show the discriminatory nature of affirmative action through our bake sale."
Although Rogers said their intentions were good, some student felt the bake sale went too far.
One student said he felt "pretty disrespected" because ethnicities were given a monetary value.
"February is the month where black history is supposed to be remembered," the student said. "With Clemson being a predominately white campus, I feel like it was unnecessarily disrespectful."
The student said he recognizes freedom of speech, however, he wishes the group understood how the bake sale was going to be taken by their fellow classmates.
Rogers said the group did not actually sell the cookies to different races for different prices. All students were given a free cookie if they wanted one.
On Thursday, the organization posted a statement to social media further explaining its intention for the bake sale.
MORE NEWS: Day 10: Murdaugh murder trial to resume Friday at 9:30 a.m.
Copyright 2023 WHNS. All rights reserved.