From prominence to disgrace: How Alex Murdaugh became a convicted killer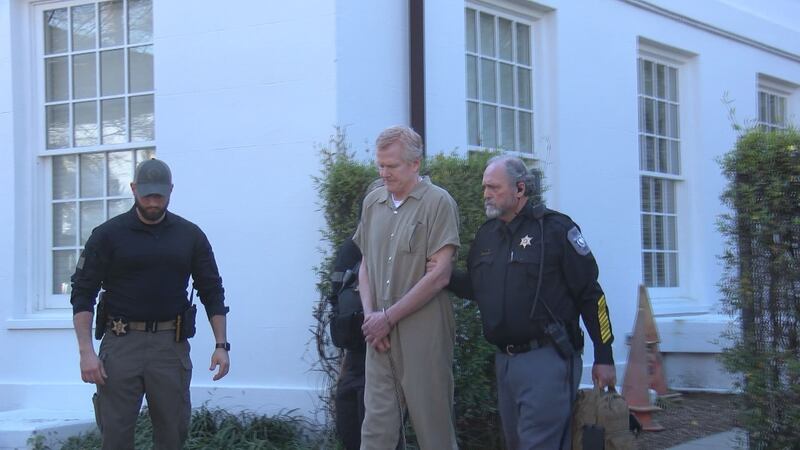 Published: Mar. 8, 2023 at 8:42 AM EST
|
Updated: Mar. 8, 2023 at 1:02 PM EST
WALTERBORO, S.C. (WCSC/AP) - For more than 80 years, Alex Murdaugh's father, grandfather and great-grandfather tried cases as elected prosecutors in the same court where Murdaugh was found guilty of murdering his wife and son.
The law firm his family founded was an area staple for more than a century before Murdaugh's alleged financial misdeeds forced a name change.
As Murdaugh stood inside the Colleton County Courthouse Friday facing Judge Clifton Newman awaiting his sentencing, Newman weighed in on the case.
"You have a wife who has been killed, murdered. A son savagely murdered. A lawyer, a person from a respected family who has controlled justice in this community for over a century. A person whose grandfather's portrait hangs at the back of the courthouse that I had to have ordered removed in order to insure a fair trial," Newman told Murdaugh.
Then, just before Murdaugh heard his sentence, Newman added: "I know you have to see Paul and Maggie in the nighttime when you go to sleep."
Murdaugh was then sentenced to consecutive life sentences and remanded into the custody of the South Carolina Department of Corrections.
Double shooting at the Moselle
It all started one warm summer night in rural Colleton County.
Colleton County deputies were called to the now infamous Moselle property by Murdaugh himself on the night of June 7, 2021.
The call did not go to 911 dispatchers in Colleton County and instead was routed to neighboring Hampton County. It was then transported back to Colleton County, where Murdaugh told dispatch his wife and son had been shot.
The dispatcher asks if the wounds could be self-inflicted.
"Oh no, hell no," Murdaugh said.
Murdaugh can be heard pleading with the dispatcher to hurry and send help before telling the dispatcher that he's going to the house to grab a gun.
Murdaugh said he was checking both bodies as he was on the phone with 911 operators and when he tried to turn Paul over his phone popped out. He said he didn't know what to do.
"You could see his brain on the sidewalk," Murdaugh said.
Witnesses who responded to the scene that night have said Murdaugh appeared to be clean when they arrived at the scene that night. Thursday, Murdaugh said he had gotten blood on his fingertips.
"There was so much blood," Murdaugh said.
Colleton County Sheriff's Office Sgt. Daniel Greene was the first person to arrive at Moselle. During testimony, he describes a grisly scene as he recalls seeing Paul and Maggie's bodies laying in pools of blood.
"I can see Mr. Murdaugh at the end of the driveway. As I approached towards him, I could see the male victim laying on the ground to my left," Greene said. "As well as the female victim on the ground my right. There was a large deal of blood that had pooled under his body, same thing for the female victim."
Other testimony from Greene dealt with Murdaugh's emotional state on the horrific night.
"In your interactions with Mister Murdaugh, was he able to understand your questions and respond appropriately to what you were asking?" lead prosecutor Creighton Waters asked Greene.
"Yes," Greene said.
"Was he panicking in any way?" Waters asked.
"He seemed upset, but I wouldn't say panicky," Greene said.
Another insight into the mind of Murdaugh on the night of the murders comes from Capt. Jason Chapman, who oversees the sheriff's office's special operations.
"I didn't see him cry. Not everyone cries," Chapman said. "I don't have an issue with that."
He says Murdaugh would sometimes change when asked a question.
"There are times that when we got to certain places or ask certain questions that you could see a slight demeanor change or body language shift," Chapman said.
He said Murdaugh remained on the scene.
Sept 4. shooting, SLED investigation
Just months after the double shooting that would soon captivate the nation, South Carolina Law Enforcement Division announced they are investigating a shooting in Hampton County.
The shooting on Salkahatchie Road took place on Sept. 4, 2021, and involved none other than Alex Murdaugh.
Murdaugh claimed he was shot in the head by an unknown man while changing a tire on the rural road.
Murdaugh went as far as to have a composite sketch of the man he claimed shot him.
A couple of days later, in a phone interview with South Carolina Law Enforcement Division Agent Ryan Kelly, Murdaugh admitted to lying about the circumstances surrounding the shooting
He told investigators he provided a man named Curtis Smith with a gun and directed Smith to shoot him in the head for the purpose of causing Murdaugh's death, which would allow the payment of a life insurance policy to his surviving son.
In the phone interview, Murdaugh admits to having an 18-20 year addiction to prescription painkillers and said he thought it would be easier on his family if he was dead.
Kelly testified agents had already searched Smith's home before the phone call and located several deposit receipts for several hundred thousand dollars from Murdaugh. They also found a truck that had been identified by security footage from a church near the shooting and a spiral notebook that contained the names of pills and dollar amounts like a crude ledger book.
Smith, 61, was arrested in connection to the incident.
Meanwhile, Murdaugh resigned from his law firm and entered rehab. Eventually, he turned himself in after an arrest warrant was drawn up for conspiracy to commit insurance fraud.
He told state agents that the man he asked to shoot him on the side of that Hampton County road was not involved in the murders of Murdaugh's wife and youngest son.
Financials, the housekeeper and a convicted banker
After the September shooting, SLED started looking into the prominent attorney's financials. And not long after that, a lawsuit claimed Murdaugh funneled money from his former law firm to a personal account for several years.
Another lawsuit was filed weeks later that claimed Murdaugh owed money to his brother Randolph Murdaugh and John E. Parker, both of whom are lawyers with Alex's former law firm.
After these suits were filed, the first major rounds of indictments from the South Carolina Attorney General's Office were announced.
The South Carolina State Grand Jury issued five indictments totaling 27 counts against Murdaugh.
One of those original five indictments said Murdaugh "convinced an attorney from another firm with which he was associated on a case" to write checks to him personally instead of to his law firm's account, allegedly explaining that "he was going to structure his fees in part because of possible civil liability in a case involving a boat crash in which a young woman died."
The attorney in question was one of Murdaugh's best friends and college roommate, Chris Wilson.
When Wilson took the stand on Feb. 9, he told jurors about two product liability cases against Mack Trucks that he had included Murdaugh on in 2020. When the cases were over, they had won $5.5 million for their clients resulting in a payday of $792,000 for Murdaugh.
Parker Law Group Chief Financial Officer Jeanne Seckinger had testified a couple of days prior about the fee structure of the law firm known then as, Peters Murdaugh Parker Eltzroth & Detrick.
Seckinger had told the court that all fees collected by attorneys at the firm were the property of the firm until the end of the year when they were paid out as bonuses.
Wilson told the court that Murdaugh had approached him about making the fee checks out directly to him instead of the firm in March 2021.
Murdaugh had told Wilson that fees were going to be structured into an annuity because he was worried about upcoming litigation in the boat crash lawsuit.
Those fees and others would be questioned by Seckinger.
The Mack Trucks fees were brought to Seckinger's attention after Murdaugh's paralegal, Annette Griswold, received expense checks from the case but not the fee checks. After checking in with Wilson's paralegal, Griswold was informed that not only had the fees already been paid, they were paid directly to Murdaugh.
Murdaugh approached Seckinger on June 3, 2021, about the fees and told her they were in WIlson's trust account, she said.
Seckinger testified that she had confronted Murdaugh about the fees again on June 7, 2021. She told him she needed proof that he had not received the fees.
Murdaugh would get a phone call during the conversation about his father being hospitalized and Seckinger went from confronting him to comforting him, she said.
A few hours later, Seckinger said Murdaugh called and asked her for information about his 401K account because he was getting documents ready for the motion to compel that had been filed in the boat crash lawsuit that was scheduled for June 10.
Following the events of that night, the fees weren't brought up again until Murdaugh reached out to Wilson in July and told him he couldn't set up the accounts like he had originally planned and needed the money to come from Wilson's trust account to the law firm.
Wilson testified that Murdaugh sent him $600,000 of the $792,000 leaving him to come up with the rest of the money. Money, he says, was never paid back.
Wilson said nothing else was said of the money by the firm until Sept. 3, 2021, when the firm confronted Murdaugh about stealing from the firm.
Mark Tinsley had filed the motion to compel in question in October 2020.
Tinsley said after being hired to represent the family of Mallory Beach he had been given copies of Murdaugh's insurance policies and the total payout would have been around $500,000 for five people. He said he didn't feel that was enough and filed a lawsuit against Murdaugh.
Murdaugh's lawyers told Tinsley he was broke and they might be able to cobble together $1 million dollars, Tinsley said. He was seeking $10 million.
The original hearing for the motion was supposed to happen in May 2021, but Murdaugh's lawyer had cancer treatment and the hearing was moved to June 10, 2021.
Tinsley said he was seeking proof that Murdaugh was broke. Had the motion to compel been granted, he said he would have subpoenaed the accounts that were listed. Prosecutors argued that the motion to compel would have exposed Murdaugh's financial misdeeds and that the murders on June 7 were a distraction.
Dawes Cooke represented Murduagh in the boat crash lawsuit. He testified he was more worried about the venue motion that had been filed and was scheduled to be heard on the same day. He said the motion was usually just a tactic used by the other side to show they were serious before an agreement could be met.
Cooke said that even if the motion had been granted on June 10 it would not have set off a cataclysm of events.
Also in the first round of financial indictments was an indictment in Beaufort County that involved the family of Murdaugh's former housekeeper, Gloria Satterfield who died in 2018.
The Murdaugh family told her two sons their mother tripped over the family dog and died weeks later from her lingering injuries. The death was never reported to the Hampton County coroner, who asked state police to investigate why she was not called to review what she would consider an accidental death.
The sons also took Murdaugh's advice to hire attorney Cory Fleming to be the executor of their mother's estate without telling them Fleming was a longtime friend, old college roommate and godfather to at least one of Murdaugh's sons.
After the death, the Murdaugh family and Satterfield's estate reached a settlement of $500,000, according to a copy of the wrongful death settlement.
But, Satterfield and the attorney representing the family said they never saw a single penny front that settlement and that wasn't the only settlement that was reached in the case.
Satterfield said he had reached out to Murdaugh in April 2021 to see if progress was being made on the case. Murdaugh tells him they're making progress on the case but they are still a ways away from being finished.
Satterfield said he found out a settlement had been reached, but only after reports surfaced after the June 2021 murders.
In all, Murdaugh had defrauded Satterfield and his brother of $4 million.
As time went on, more charges and more indictments were issued, ultimately leading up to his disbarment by the South Carolina Supreme Court in July of last year.
In total, Murdaugh is facing 19 indictments and 99 charges including tax evasion, money laundering, forgery and fraud all related to alleged financial crimes dating back years. Those crimes amount to more than $8.7 million swindled from his victims, prosecutors say.
Court documents allege Murdaugh defrauded hundreds of thousands of dollars from victims that included a highway patrolman injured in the line of duty, the family of a man killed in a car crash and a father of six who lost his wife in an accident.
Prosecutors argue in order to steal the millions of dollars, Murdaugh billed personal expenses to clients and on firm credit cards or accounts, and the state alleges he stole client money by having checks for clients made out to Palmetto State Bank, whose former CEO, Russell Lafitte, converted for Murdaugh's personal use.
The state alleges that Murdaugh also used a fake bank account, and stole from his own family and his former law firm. While testifying, Murdaugh confessed to stealing from clients.
"I admit candidly in all of these cases Mr. Waters that I took money that wasn't mine and I shouldn't have done," Murdaugh said while testifying in his own defense. "I hate the fact that I did it. I'm embarrassed by it, I'm embarrassed for my son, I'm embarrassed for my family."
No trial date has been set for Murdaugh's other charges.
Alibi defense
Months before the trial, Murdaugh and his defense team filed an alibi claim, meaning they were going to argue the former Lowcountry lawyer was not there that night.
In the motion, the defense claimed Murdaugh left the Moselle just after 9 p.m.
Murdaugh drove to Varnville to see his mother, and a nurse's aid and arrived at 9:20 p.m., according to the filing.
During the drive, the defense claims Alex spoke with multiple people on the phone, including his son Buster, his brother John Marvin and his sister-in-law Liz, C.B. Rowe and Chris Wilson, who he spoke to on the way there and back.
The defense claims Alex stayed until 9:45 p.m. before returning to the family properties at 10:05 p.m., where he found Maggie and Paul's bodies.
A timeline was a big theme in both the state's and the defense's case.
South Carolina Law Enforcement Division Agent Peter Rudofski presented 43 pages of GPS points, phone calls, text messages and orientation data detailing the movements of Alex, Maggie and Paul Murdaugh on June 7, 2021.
Rudofski's testimony created a minute-by-minute timeline that shows inconsistencies with Murdaugh's recollection of events from that night.
Data showing deleted phone calls and text messages on Murdaugh's phone and a lack of steps taken between 8:09 and 9:02 p.m.
Prosecutors gained data from Murdaugh's Chevy Suburban OnStar system Friday and investigators were able to establish that only 20 seconds had elapsed between Murdaugh's arrival at the kennels and his 911 call.
Prosecutors argued that wouldn't be enough time to check the bodies as Murdaugh claimed in the 911 call.
Data recovered also shows the Suburban driving at a high rate of speed on his way to and from his mother's house reaching a maximum speed of 80 mph.
Defense attorney Phillip Barber worked to poke holes in Rudofski's interpretation of the data suggesting that Murdaugh could have hit that speed by passing a car on the two-lane road.
Rudofski didn't take the bait and said he was just looking at the data.
The state then showed the jury a voicemail from Paul Murdaugh about Maggie Murdaugh finding pills in Alex Murdaugh's bag and a search history showing Maggie Murdaugh had tried to identify the pills.
Interviews and kennel video
One of the biggest revelations of the murder trial involved Murdaugh's interviews with law enforcement after June 7.
Early in the almost 6-week trial, state prosecutors presented a video taken on the night Paul and Maggie Murdaugh were killed that put Murdaugh at the scene of the crime.
Murdaugh told investigators he wasn't there.
The video shown is thought to have been meant for Paul's friend Rogan Gibson and taken just after the two had a four-minute phone conversation about Gibson's dog that was staying at the kennels where Maggie and Paul were found.
In the video, three distinct voices can be heard. Prosecutors said those voices are Paul, Maggie and Alex.
When Murdaugh took the stand in the same courtroom where his family once tried cases as solicitors he admitted that he lied to law enforcement about being at the kennels the night of the murders.
When defense attorney Jim Griffin asked him whether it was his voice heard on a video his son, Paul, took at the family's Colleton County hunting property just minutes before the double shooting, he acknowledged for the first time that he was there and that he lied to investigators and his family when he said he had not been there before discovering their bodies later that night.
"As my addiction evolved over time, I would get into situations or circumstances where I would get paranoid, thinking. It could be anything that triggered it," he said. After finding the bodies, he said all of his partners were repeatedly telling him not to talk to anyone without his attorney with him, adding that he began feeling paranoid again as a deputy sheriff performed a gunshot residue test on his hands and as he sat in a police car with Investigator David Owen asking questions about his relationship with the two victims.
"All those things, coupled together after finding them, coupled with my distrust for [the State Law Enforcement Division] caused me to have paranoid thoughts," he said. He said he wasn't thinking clearly and doesn't think apologized to his family, including his surviving son, Buster, who watched from the courtroom gallery, for lying about his whereabouts.
Griffin asked if he continued to lie after that night.
"Once I lied, I continued to lie," Murdaugh said. He quoted a portion of a familiar quotation from Sir Walter Scott's play "Marmion," saying, "What a tangled web we weave."
"But once I told a lie, and I told my family, I had to keep going," he said.
Murdaugh testified his version of that night for jurors saying he got home and rode around the property with Paul Murdaugh and took a shower before Maggie Murdaugh arrived home that night.
He said Maggie had asked him to come to the kennels after dinner and he originally said no before joining her and Paul later. Murdaugh said he went back to the house shortly after the video was taken at the kennels and sat down before leaving for his mother's house.
Murdaugh said it wasn't planned for Maggie to go with him on the trip and that she didn't like visiting his mother after she was diagnosed with Alzheimer's.
Maggie's sister Marian Proctor testified last week that Murdaugh had asked Maggie to come home that night so they could go visit his father who had been hospitalized earlier in the day. Proctor said then that was the whole reason Maggie went back to the house that night.
Murdaugh testified that he always wanted Maggie to come home.
Murdaugh claims 'real killer' was motivated by deadly boat crash
During his SLED interviews and the 911 call, Murdaugh sows the seeds of a fatal boat crash in 2019 possibly being involved in the murders.
Paul was charged in 2019 in the death of a 19-year-old University of South Carolina student who died in a boat crash near Parris Island in late February of that year.
After the murders, officials with the attorney general's office dropped the charges against Paul.
Police reports from the night of the incident stated there were six underage people on a boat who were all "grossly intoxicated that evening."
Mallory Beach was reported missing after the crash. Her body was found a week later near the Broad River Landing in Beaufort.
Months later, Paul was issued three indictments: one for boating under the influence causing a death, and two counts of boating under the influence causing great bodily injury.
Murdaugh testified that he believed at the time and still believes that the 2019 boat crash was a motivating factor for whoever committed the murders, but he didn't think it was anyone on the boat or their families.
He points to threats that he claims Paul received on social media after the crash.
Waters was outraged by the claim, saying that a "vigilante" would have to know the Murdaughs were at the Moselle that night. He also said the person would have to know how to navigate the large property and know Maggie and Paul were at the kennels at the exact time Alex was not home, visiting his mother.
Then Waters asked a question that had only been asked by the defense at that point.
"Mr. Murdaugh, are you a family annihilator?" Waters said.
"You mean, like did I kill my wife and son? No," Murdaugh said. "I would never hurt Maggie Murdaugh. I would never hurt Paul Murdaugh. Under any circumstances."
Weeks after Paul's murder, the charges against him in connection to the deadly boat crash were dropped.
Beach's family filed a lawsuit against Alex and his family that was settled in January of this year.
29 days in Walterboro
While prosecutors set to prove the collected evidence all pointed to Murdaugh and argued he had the motive to kill Maggie and Paul, the defense took the opposite stance.
Murdaugh's defense team called multiple witnesses speaking to Murdaugh's love for his family and called two of Murdaugh's family members, his brother John Marvin and his only surviving son, Buster.
Buster Murdaugh described his father as "destroyed" and "heartbroken" when he arrived at Moselle that night. He said neither he nor Alex Murdaugh stayed another night at Moselle.
Buster Murdaugh told jurors he never left his father's side in the days after the killings. He said they spent time at Almeda, his uncle's hunting lodge, Summerville with Maggie Murdaugh's parents and a trip with Maggie Murdaugh's family to Lake Keowee.
Buster Murdaugh said he had conversations about his safety with his father, but didn't take any extra precautions.
"Well, I didn't wanna carry a gun or anything like that. Also didn't want a private security following me around for lack of privacy," Buster Murdaugh said.
The last witness that jurors heard from was Murdaugh's brother, John Marvin Murdaugh.
Murdaugh's brother testified about the night of the murders and going to Moselle the next morning.
John Marvin Murduagh said his brother sounded normal on a phone call they had while Alex was driving to visit his mother on the night of the murders. He says when he heard from him later that night he knew something was wrong.
"Alex called me and, just, absolutely hysterical," John Marvin Murdaugh said. "As soon as I heard his voice, I knew something bad was going on. I didn't know what."
He told jurors that he had known about Alex Murdaugh's voice being heard in the kennel video since August 2022 when he says he was called to the office of the South Carolina Law Enforcement Division and played the video.
"That was the reason for me being there was to hear that audio and I saw the kennel and at that point, I heard his voice and I knew it was him," John Marvin Murdaugh said.
The defense also pointed to the same investigation that led authorities to Murdaugh as the prime suspect as flawed by pointing out how investigators never tested for fingerprints and other evidence at the scene.
They also pointed out that investigators had allowed friends and family of Murdaugh to walk through the crime scene possibly destroying evidence before sending them to the house on the property. The same house, that the defense said couldn't have been properly searched.
No witness the defense called would generate the attention that Murdaugh himself had when he told Newman he wanted to testify in his own defense.
"Mr. Griffin I didn't shoot my wife or son any time," Murdaugh said.
Griffin had asked Murdaugh directly if he had committed the murders when he took the stand on Feb. 23.
Murdaugh would spend around eight hours across two days on the witness stand admitting to lying about being at the kennels and lying to clients while stealing their money.
Murdaugh admitted he lied for the 20 months when he told police, his family and anyone else who asked that he was not at the kennels before he found the bodies of his wife and son there.
In cross-examination, Murdaugh admitted he stole from clients and his law firm, likely sealing his fate for many of the 100 other charges he faces ranging from theft to insurance fraud to tax evasion.
"I took money that wasn't mine. And I shouldn't have done it. I hate the fact that I did it. I am embarrassed by it. I'm embarrassed for my son. I am embarrassed for my family," Murdaugh said.
Three jurors on Monday said Murdaugh's time on the stand didn't help him at all. In fact, it solidified their thoughts that he could easily lie and turn his tears on and off at will, the jurors said on the NBC Today show.
The key piece of evidence in finding the lawyer guilty, they said, was a video on his son's cellphone that was shot minutes before the killings at the same kennels near where the bodies were found at their sprawling estate in rural South Carolina.
"The kennel video, that just kind of sealed the deal," juror Gwen Generette said.
His background was part of the reason jurors didn't find his testimony believable.
"We already know that he's a lawyer. He's able to be emotional with cases. He's able to be emotional with himself. He knows ... when to turn it on and off. So I think that we were able to read right through that," juror James McDowell said.
The jury returned a guilty verdict in under three hours.
The next day, Newman sentenced Murdaugh to consecutive life sentences.
What's next?
After the verdict and sentencing, the defense team announced they would seek an appeal.
Harpootlian and Griffin told reporters they plan to file a notice of intention to appeal within 10 days. They must wait to receive a transcript of the trial, which they said "will take a while." At that point, they plan to file the appeal.
Both said they believe all of the financial crimes Newman allowed in as evidence should not have been heard by the jury.
"Once they got that character information in that he's a thief, he's a liar, then it dictated this jury had to think he was a despicable human being and not to be believed. So it was about character, it wasn't about motive. So as a result, our options were limited," Harpootlian said. "Look, they won this case the day the judge bought into letting them put every piece of, you know, stealing from kids who lost their mother, from somebody with pancreatic cancer, somebody that's a paraplegic. I mean, all of that two and a half weeks, by the time they got done with it, it didn't matter about final argument. It didn't matter about what we put up. He was, they would never ever, ever acquit him after that."
Murdaugh still faces nearly 100 financial crime charges and an indictment on tax evasion charges.
There's also the matter of the roadside shooting incident from Sept. 4, 2021. Murdaugh still faces charges stemming from that as well.
More immediately, the former Palmetto State Bank CEO Russell Laffitte was denied a motion for a new trial after he was convicted of six financial crimes in November of last year. The move paves the way for Laffitte's sentencing.
In the aftermath of the Murdaugh murder trial, his surviving son Buster filed a report alleging someone had been stalking him and taking invasive pictures.
Harpootlian returned to his role as a state senator Tuesday.
The Richland County Democrat thanked his colleagues in the Senate for the emails they sent inquiring about his wellbeing during what he called a "maelstrom of a trial." He also gave his observations about the trial and the legal process as he reflected on his almost 50-year law career.
"'Fun' is the wrong word, but it's still enjoyable today for me as it was almost 50 years ago when I began this process of trying cases," he said. "That process, if it operates correctly, can be so satisfying to the lawyers."
He also addressed a fellow senator's question about the integrity of the system.
"Now, I disagree with Judge [Clifton] Newman on some of the rulings he made. He ruled and we objected; it's in the record," he said. "The Supreme Court, Court of Appeals have a chance to look at that, and maybe even federal court. But that's not based on bias. He just had a view of the law different from what I had."
Copyright 2023 WCSC. The Associated Press contributed to this report. All rights reserved.