Missouri sheriff, 3 others accused of kidnapping plot
Published: Mar. 17, 2023 at 1:42 PM EDT
IRON COUNTY, Mo. (KMOV/Gray News) – The Iron County sheriff is part of a group that was indicted on multiple charges.
Sheriff Jeffery Burkett, Donald Rickie Gaston, Chase R. Bresnahan, and Matthew A. Cozad are each facing charges, including participating knowingly in criminal street gang activities, attempting kidnapping, stalking, misuse of emergency telephone service and unlawfully obtaining criminal history information.
Washington County 911 has an agreement to handle 911 calls for Iron County.
Charging documents said that in February, Gaston, 62, tried to take his daughter after an argument with the child's mother.
The documents allege that on the night of Feb. 8, there was a disturbance between Gaston and a woman in Iron County. Washington County dispatchers noted in the call log that Gaston was physically aggressive, and three deputies responded to the home.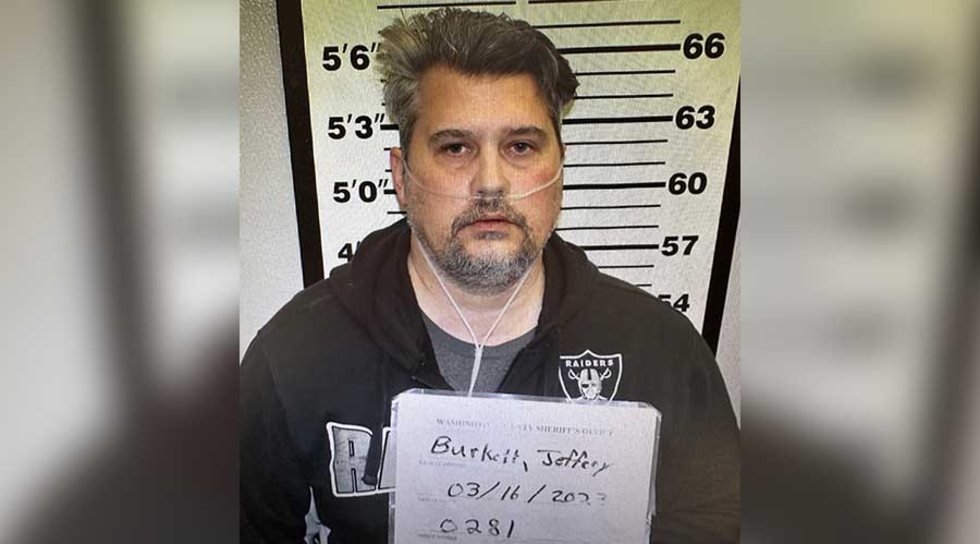 A recording of the argument between Gaston and the woman captured them fighting about a $50 bottle of liquor. After the argument, the woman left the home with her children. The Iron County deputies, which included Bresnahan, reported that the parties had separated, and there were no injuries reported.
The following day, the woman asked Iron County sheriff's deputies to go with her back to the home so she could get personal items. Gaston refused to let anyone in the home. The woman then went to a relative's home to "seek safe refuge" from Gaston, court documents state.
The four were accused of trying to track the woman using her cellphone pings, saying that she was intoxicated and a child was injured. They also tried to get a warrant for her arrest, as well as trying to get a "stop and hold" on the woman and her vehicle.
The sheriff also sent deputies on a well-being check to detain the woman and get the child back to Gaston, but they did not take her into custody because they found no visible injuries.
Burkett has pleaded not guilty. He is being held on a $500,000 bond but is not to be released without GPS monitoring. The judge also said he is not to serve as sheriff or an officer while the case is pending. Bond for the other three was set at $400,000 each.
The Missouri State Highway Patrol said all four men were arrested Thursday and turned over to the Washington County Sheriff's Office. The Washington County Prosecuting Attorney's Office is handling the case.
Iron County is about an hour and 40 minutes south of St. Louis.
Burkett's attorney said the charges are politically motivated, following several attempts to remove the sheriff from office.
Attorney Gabe Crocker said, "This is small town politics. ... My client and I look very forward to exposing the darker side of this story – then, and only then, should one form their opinion. There is much more to this story."
Burkett, a Republican, was elected sheriff in 2020 and previously worked as a deputy, the Associated Press reported.
Last year, he was hospitalized for nearly four months with COVID-19, including spending time on a ventilator, according to the department's Facebook page, during which time county officials sought to remove him from office but eventually backed off.
Burkett was hospitalized briefly on March 10 because of lingering "symptoms and complications," the Facebook page stated. The mug shot photo taken after his arrest shows him wearing an oxygen line in his nose.
"It's wild, nothing like that happens to seem to happen around here, so for that to happen is crazy," resident Garret Adams said. "Definitely not a good reflection of the people from this area. Really good people live around here, take care of each other."
One concern residents had is just how many deputies are left to police the county. According to the Iron County website, the department has 13 deputy positions, but three are part-time, and two others are reserve. Burkett's attorney said there are only six deputies as of Thursday, plus the sheriff.
Burkett's attorney was asked how many remained and if other agencies were stepping up to police in light of Thursday's news. Crocker said he did not know.
Copyright 2023 KMOV via Gray Media Group, Inc. All rights reserved. The Associated Press contributed to this report.