Airline passenger honored for tackling man in flight attack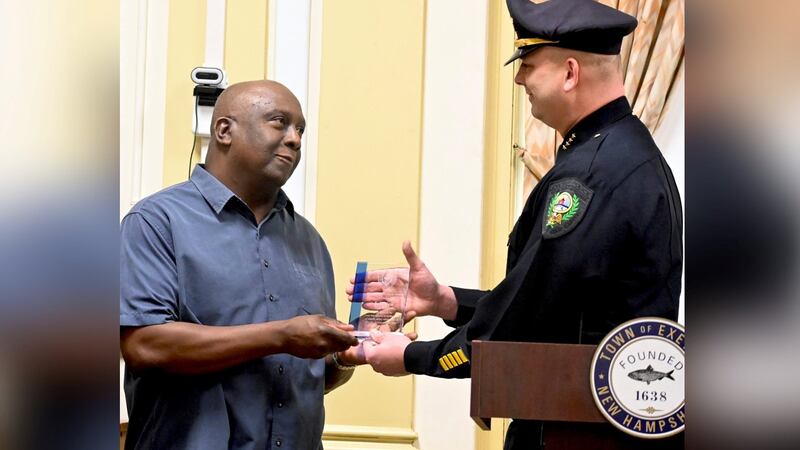 Published: Mar. 24, 2023 at 2:28 PM EDT
EXETER, N.H. (AP) — An airline passenger who helped tackle a man trying stab a flight attendant with a broken metal spoon was honored Friday by his hometown police department in New Hampshire.
Jeff Neil, a former bouncer who now works for a software company, received the "Citizen Award" for his actions earlier this month, which were caught on video by another passenger.
At a ceremony in Exeter, Neil said he doesn't consider himself a hero but acknowledged the significance of what happened.
"I truly was in the right place at the right time," he said.
Neil's wife Libby was sitting with him on the plane. She said she wasn't surprised he jumped into action.
"We both knew that he would be getting up," she said.
Francisco Severo Torres, 33, of Leominster, Massachusetts, was arrested and accused of attacking a flight attendant and attempting to open the door of United Airlines Flight 2609. The plane was about 45 minutes from Boston when the crew noticed the door handle had been moved out of the fully locked position.
Investigators said Torres admitted knowing that if he opened the door many people would die. He awaits a mental health evaluation.
In the video, Torres can be seen loudly threatening to kill people and promising a "bloodbath" before saying he was "taking over this plane" and stepping into the aisle.
Seated one row back, Neil immediately jumped up and tried to calm Torres and defuse the situation.
Prosecutors say Torres approached two flight attendants and attacked one of them. Neil and several other passengers rushed to the attendant's aid and tackled Torres, then held him down until the flight got to Boston.
Exeter Police Chief Stephan Poulin said Neil "exemplified what it means to be both a hero and a leader."
Copyright 2023 The Associated Press. All rights reserved.