3 students, 3 adults, shooter dead after Nashville school shooting, police say
Police identify shooter as a 28-year-old woman who was a former student at Covenant School.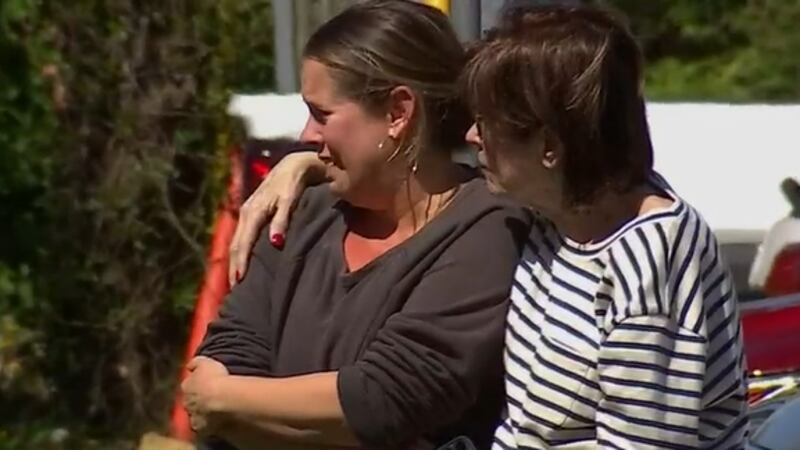 Published: Mar. 27, 2023 at 11:44 AM EDT
|
Updated: Mar. 28, 2023 at 2:03 PM EDT
NASHVILLE, Tenn. (WSMV) – Multiple children and adults are dead, and an investigation is underway after a school shooting in Nashville Monday morning.
Three students and three adults were shot and killed at Covenant Presbyterian School, according to the Metro Nashville Police Department.
Police said a 28-year-old Nashville suspect, identified as former Covenant School student Audrey Hale, arrived at the campus in a Honda Fit. Hale was heavily armed with three guns, two of them assault-type weapons, and, as seen in surveillance video, shot into the church and school through doors on the side of the building.
On Tuesday, Police Chief John Drake said detectives learned Hale was under a doctor's care for a mental health disorder. The shooter was hiding weapons inside the home and had purchased seven firearms from five different stores, legally. Chief Drake also mentioned the shooter wrote in a manifesto about targeting other possible locations.
The first call to 911 about shots fired in the building came in at 10:13 a.m. Officers rushed to the campus and began clearing the building. Shots were heard from the second level. It was on the second floor, in a common area, that a team of officers encountered Hale shooting. Hale had been firing through a window at arriving police cars. Two officers shot and killed Hale at 10:27 a.m. Those two officers are Officer Rex Englebert, a four-year Metro Police veteran, and Officer Michael Collazo, a nine-year veteran of MNPD.
Police said one officer sustained an injury from broken glass. MNPD Chief John Drake added that the shooter left behind a manifesto and maps, leading investigators to believe the shooting was targeted.
The victims have been identified as Evelyn Dieckhaus, Hallie Scruggs, and William Kinney, all age 9, Cynthia Peak, age 61, Katherine Koonce, age 60, and 61-year-old Mike Hill.
The school released a statement on the day's events on Monday night.
Our community is heartbroken. We are grieving tremendous loss and are in shock coming out of the terror that shattered our school and church. We are focused on loving our students, our families, our faculty and staff and beginning the process of healing.

Law enforcement is conducting its investigation, and while we understand there is a lot of interest and there will be a lot of discussion about and speculation surrounding what happened, we will continue to prioritize the well-being of our community.

We appreciate the outpouring of support we have received, and we are tremendously grateful to the first responders who acted quickly to protect our students, faculty and staff.

We ask for privacy as our community grapples with this terrible tragedy - for our students, parents, faculty and staff.
"In a tragic morning, Nashville joined the dreaded, long list of communities to experience a school shooting," Nashville Mayor John Cooper wrote in a tweet Monday afternoon. "My heart goes out to the families of the victims. Our entire city stands with you. As facts continue to emerge, I thank our first responders and medical professionals."
The Covenant School is located at 33 Burton Hills Blvd. Hillsboro Pike was closed from Harding Place to Hobbs Road for police at the scene.
A student reunification area was set up by the Nashville Fire Department at Woodmont Baptist Church, at 2100 Woodmont Blvd.
Tennessee Gov. Bill Lee and others have offered their support and prayers in response to the shooting.
Tennessee State Representative Bob Freeman, who represents the Green Hills area, offered this statement on the shooting:
Related coverage
Woman, 28, kills 3 children, 3 adults in Nashville school shooting: police
Nashville school shooting suspect was former student, police say
'They were hiding in the closet': Daughter of Nashville teacher describes fatal shooting
Reaction to fatal Covenant School shooting in Nashville
Check back for more information.
Copyright 2023 WSMV. All rights reserved.