ESPN reporter Holly Rowe credits Dawn Staley for her love of women's basketball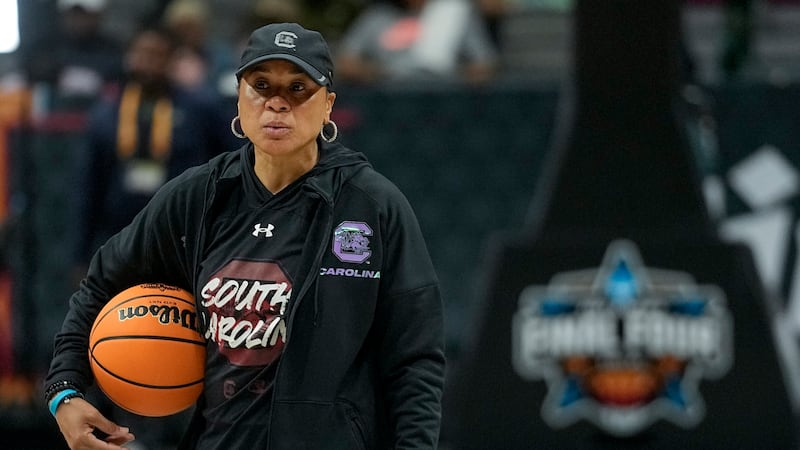 Published: Mar. 31, 2023 at 12:47 AM EDT
GREENVILLE, S.C. (FOX Carolina) - South Carolina head coach Dawn Staley's impact on women's basketball is well documented. The 3x Naismith Coach of the Year is the first and only black coach to ever win multiple NCAA basketball championships.
That statistic includes the men's NCAA basketball tournament as well.
In a profession that is traditionally dominated by white male coaches, Staley has disrupted the status quo and she's showing no signs of stopping.
Her impact goes beyond her coaches box though as journalist and ESPN sideline reporter Holly Rowe detailed to FOX Carolina sports director Beth Hoole at the women's Final Four in Dallas. Crediting Staley for her love for the game.
"I wouldn't be sitting here talking to you if it wasn't for Dawn Staley," said Rowe. "That's simply the impact she's had on my life."
Rowe went on to explain she first saw Dawn Staley playing for Virginia when she was a young intern at CBS Sports.
"One of my jobs was to go through and log TV games and see what commercials ran where so the sponsors knew they got their commercial run. And I started doing games and it was Virginia women's basketball when Dawn Staley and Tammy Reese were playing and I fell in love with that team," said Rowe. "I never looked back from that moment on. I was a women's basketball celebrator promoter advocate. I just got so obsessed with the game because of Dawn Staley, and I frequently told her I wouldn't be here if it wasn't for you."
Rowe has made it a point to remind Staley of that impact throughout the years. Recalling how Staley made a point to congratulate Rowe after she was presented with the 2023 Curt Gowdy Media Award by the Naismith Memorial Basketball Hall of Fame in February. Rowe reminded her again, of her impact.
"She came over and congratulated me and I said, 'we did this because I wouldn't be here if it wasn't for you," said Rowe. "She captured my imagination as a player and I fell in love. I just wanted to see her play, and followed her entire career."
"For me, it's really special to be here covering her now as a coach, because I'm here because of her. That's the impact she's had."
Rowe will be on the sidelines Friday night when the Gamecocks face the Hawkeyes in the NCAA Women's Basketball Final Four. The game airs at 9:30 EST on ESPN.
Copyright 2023 WHNS. All rights reserved.