'Call it fate': Responding officers describe stopping Nashville school shooter
Six people, including three children, were killed in the shooting.
Published: Apr. 4, 2023 at 2:21 PM EDT
|
Updated: Apr. 5, 2023 at 1:50 PM EDT
NASHVILLE, Tenn. (WSMV) – As Detective Sgt. Jeff Mathes arrived at The Covenant School more than a week ago, dozens of shots from an assault-style rifle had already rung out inside the private Nashville elementary school.
Swarms of Metro Police officers were on the way after dozens of active shooter calls were dialed into 911 dispatchers – the sounds of sirens and the school's fire alarm deafening.
Mathes said as he armed himself and prepared to go inside, he noticed an officer he'd never seen before unlocking a door. Officer Rex Engelbert had been given a master set of keys by a brave school administrator who had not run from the gunfire but instead stayed behind to help protect the innocent lives inside.
As Engelbert swung open the door to the unknowns inside the school, he yelled, "Let's go!" and led the officers inside.
"I had never seen Rex in my life," Mathes said. "When we got there, he had already unlocked the door. Not knowing what I was going into, I walked through that door without hesitation."
As it turned out, Engelbert, who first fired fatal shots at the shooter 2 minutes and 15 seconds after entering the school, wasn't even supposed to be there. He was en route to the Metro Police Academy to complete some administrative tasks when he heard a call that compelled him to get to The Covenant School as fast and safely as he could.
"I really had no business being where I was," Engelbert said. "You can call it fate or God or whatever you want. I can't count on my hands the irregularities that put me in that position when the call for service went out for an active deadly aggressor at a school."
'I could see the pain and hurt that they were dealing with'
On Tuesday, Engelbert, Mathes and Detective Michael Collazo, all among the responding officers who thwarted the school shooter threat at The Covenant School, spoke to reporters publicly for the first time since the March 27 shooting.
At the planned press conference, Chief John Drake started by expressing his condolences to the six families who lost a loved one in the shooting. Drake said he had attended the funerals for 9-year-olds Hallie Scruggs, Evelyn Dieckhaus and William Kinney and 61-year-olds Mike Hill and Cynthia Peak. He planned to attend the funeral for 60-year-old Katherine Koonce on Wednesday.
"I could see the pain and hurt that they were dealing with," Drake said.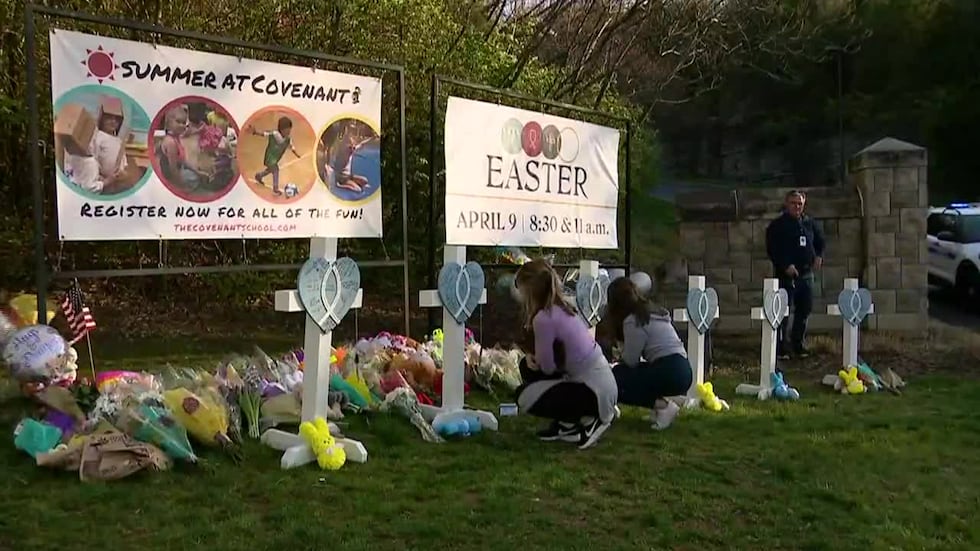 Drake then took the time to commend his officers for their swift response. He said their actions were textbook.
"They did what we were trained to do," he said. "They got prepared and went right in – knowing that every moment wasted could cost lives."
Drake also thanked Covenant teachers and staff, who had recently completed active shooter training, for their preparedness.
"Their efforts also saved lives," he said. "They were able to protect these kids as well."
Drake said at the adolescent victims' funerals, their classmates thanked officers for their service – something they continue to do.
"No one ever said it would be easy," Drake said. "But they said it would be worth it. I'm totally proud of my men for what they did."
Inside The Covenant School
Once inside the school, officers recalled hearing the sound of the school fire alarm echoing inside the halls. The officers said their training requires them to listen for stimulus – or in this case, gunshots.
They could not hear any at first. They hustled through plumes of smoke and ignored the smell of gunpowder while clearing each room on the lower level of the school in an effort to try to find the shooter. While doing so, the officers had to step past bodies that laid on the ground.
"I don't know how I did that morally," Mathes said. "But training is what kicked in."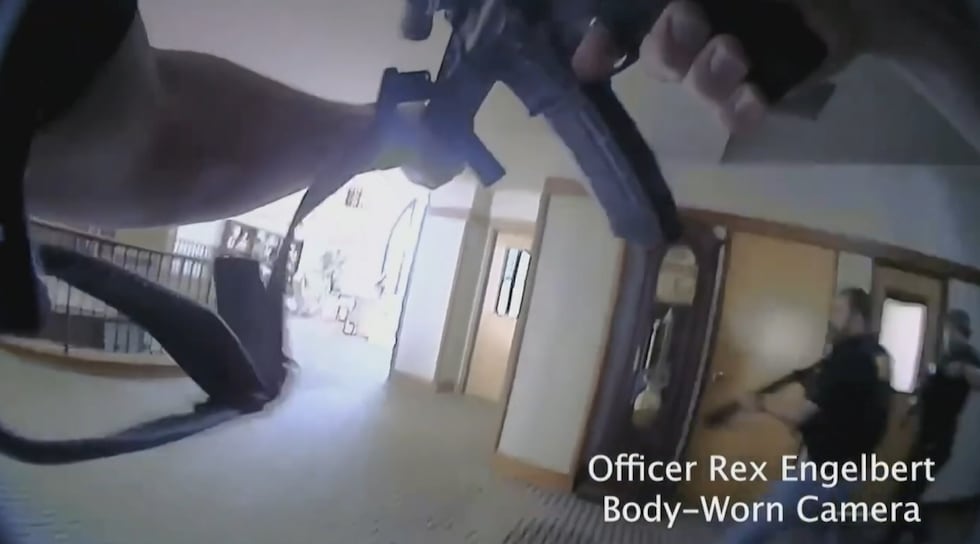 As they walked up the stairs, they could hear gunshots coming from the school's second-floor atrium. Engelbert pushed forward and eventually confronted the shooter, who police said had been firing shots through a window toward arriving first responders.
Engelbert and Collazo fired four shots each and killed 28-year-old Audrey Hale, police said. Investigators said Hale had fired more than 150 shots inside the school before going down.
After the threat was over, Engelbert was told to sit in his car as the investigation continued. Still, he wanted to do more.
"It was difficult because I knew there was more to be done," he said.
'A long road ahead of us'
As police cleared the building of children and staff, Commander Dayton Wheeler's job was to set up a reunification site for families. Some families that went to the site got good news that six other families did not.
"Obviously there's a long road ahead of us," Wheeler said.
As the investigation into the shooting continues, Metro officers who responded to the scene continue to get the help they need from their department and community, they said. Nashville residents have reached out, offering their condolences and support.
But it will never be easy, they said.
"There's obviously been loss of sleep," Mathes said. "Children hugged more than normal."
Copyright 2023 WSMV. All rights reserved.