Police identify 5 victims of Newton County head-on crash, driver in critical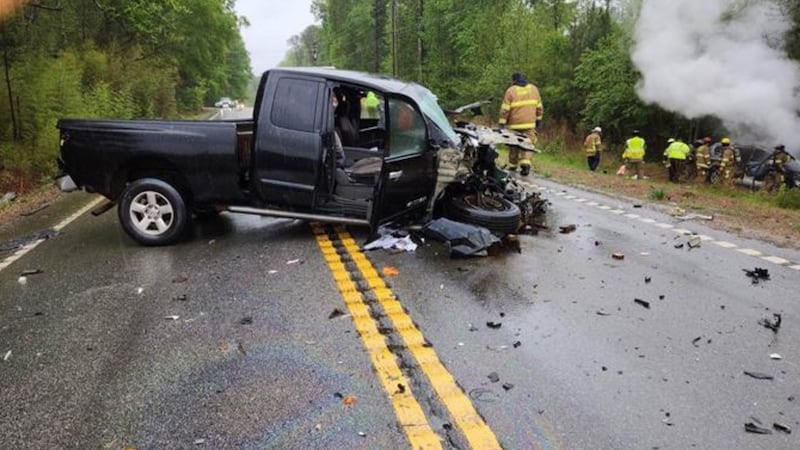 Published: Apr. 8, 2023 at 6:51 PM EDT
|
Updated: Apr. 20, 2023 at 5:23 PM EDT
COVINGTON, Ga. (Atlanta News First) - The Newton County Sherriff's Office has released the names of 5 victims and an injured driver after a head-on collision on Newton County highway on April 8.
The five victims killed in the crash have been identified as Taylor Makayla L, 26, Eisenmann Alicia, 55, Quattlebaum Darin, 58, Pike Kelly, 55, and Wynn Peggy, 68. The 16-year-old driver remains in critical condition, officials confirmed to Atlanta News First.
ORIGINAL STORY:
An investigation is underway after at least five people died following a head-on crash on a busy Newton County highway Saturday afternoon.
According to deputies, a truck and a van collided on the highway and the five victims were all in the same vehicle. The driver of the truck was taken to Piedmont Newton Hospital in critical condition.
The crash happened at 3 p.m. on SR 142 at Adams Circle when the truck crossed the center lane.
Greg Barlow lives just yards away from where the crash happened.
"Around 3:00, I was sitting in the house and I heard a big boom, a crash and I came out here," Barlow said. "There's normally a wreck out here in front of this intersection and I didn't see anything. I walked all the way down towards the edge of my driveway, and looked down and I saw a black truck in the middle of the road just scattered everywhere," he said. "It was devastating. It was extensive damage for both vehicles. I mean the van was on fire. The truck, the whole front end was pushed in," Barlow said.
Barlow said he came out to help.
"When I first came down here, I saw the truck down in the middle of the road. I was going to call 911 and I was running into the house to go grab my phone. When I got to the house, and I was in shorts and flip-flops, so I changed, threw some clothes on and a jacket because it was pouring down raining and I grab my phone and then someone's beating on my front door," Barlow said.
He also took the cell phone pictures you see above.
"So, I ran to the door, and the guy was telling me to grab a fire extinguisher. He needed a fire extinguisher. So, I went to the kitchen and got one of the little, small ones that we have and came out followed him," Barlow said. "He was already running back, and I took off down there and when I got to the edge of the driveway, and I looked down there. I didn't see the van the first time, when I looked, but I looked down there and I saw engulfed in flames. I mean the whole vehicle was in flames," Barlow said.
Barlow said he didn't not know those who died, but he feels for everyone involved.
"I've never seen anything like that before. So, it really hit me hard. All day yesterday was very intense. Very intense," Barlow said.
"Nobody wants to see an accident or be in an accident, but I mean this was horrible. I feel for the families. I don't know the people in the van. I don't know the young kid, I knew his grandma," he said.
Officials with the Newton County Sheriff's Office said no children were involved in the crash. They also said this is still an active investigation.
Atlanta News First will have the latest updates on this developing story.
Copyright 2023 WANF. All rights reserved.