Police: 132 cars broken into at 2 Henry County apartment complexes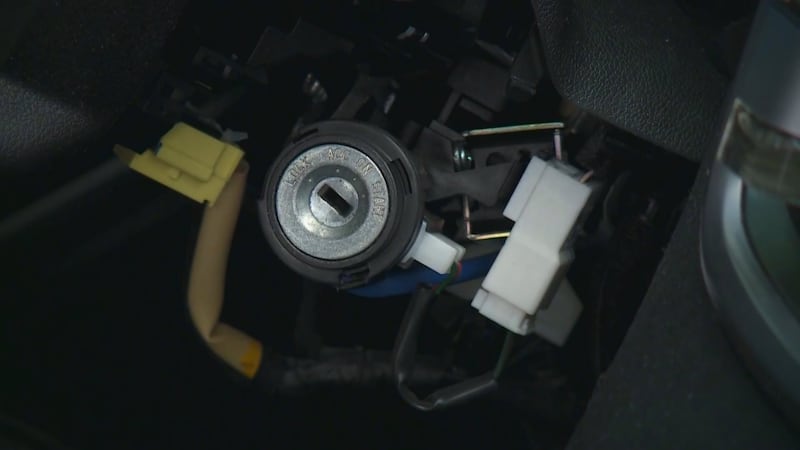 Published: Apr. 30, 2023 at 5:48 PM EDT
|
Updated: May. 1, 2023 at 11:37 PM EDT
STOCKBRIDGE, Ga. (Atlanta News First) - Police say a group of thieves broke into 132 cars at two Henry County apartment complexes Saturday night.
The Stockbridge Police Department says 5-6 males entered The Abbey at Eagles Landing apartments on Rock Quarry Road and North Park at Eagles Landing apartments on Evergreen Terrace in a dark-colored sedan and shattered windows of all the cars involved.
"I didn't see anything. My friend was in the room, and he was like...it's somebody, people outside, they done broke into your window," said Mary Cooper, a victim. "I'm like, "No, you lying. You lying," she said. "So, I look, and I see my window and there was a car next to me and their window was broken open. So, I just ran down the stairs and let my sister know about her car," Cooper said.
Cooper said her sister's car was also victimized.
"Honestly, I was just upset. I just wanted to know how did this happen. You know, we just moved here, so that didn't make me feel good at all," Cooper said.
The pair just moved into North Park a week ago.
"Are we going to be safe. I mean how many times is this going to happen? Is this happening often," said Ayzia Pene, Cooper's sister. "We just moved here so, and I have a little one. I just want to make sure I'm safe. We didn't have to worry about this at a house," Pene said.
Many people who live in the area stated they did not hear any alarm sounds at the time of the incident. Police said two firearms were stolen.
"Law enforcement, tighten up. We shouldn't have to deal with this. We shouldn't have to deal with this if this supposed to be a nice community, we should have to deal with this," Pene said.
Officials said the thieves were wearing hoodies and left the scene before officers arrived.
"For the people that's going around doing this, people work hard for their stuff. You know it's very inconsiderate and instead of going around doing this, get into some books or something or to the parents, watch your children," Pene said.
Police said there's no age range for the suspects, and there's no information on any gang activity.
"I'm hoping that they don't come back and try to get more windows. Like, at this point, I don't know what we're going to do, because that don't make me feel safe living here," Cooper said.
Some residents who spoke with Atlanta News First said they have concerns about their complex.
"I would like to know what our leasing office is going to do for us," Cooper said.
Officials with the Stockbridge Police Department said this hasn't happened since they took over from the Henry County in July of 2022. Law enforcement said they are increasing patrols in the area and increasing coverage. Officials also said they've contacted apartment complexes in the city, to pass along crime prevention measures, like removing any valuables from the vehicle. They stated they have all hands on deck trying to solve these break-ins and try to prevent any further activity.
According to the Stockbridge Police Department's Facebook page, several people reported observing a group of suspicious males in the area at the time of the break-ins, adding that they did not contact police. If you have any information regarding these incidents, contact the Stockbridge Police Department at the 24-hour non-emergency number at 770-957-9121.
Copyright 2023 WANF. All rights reserved.