10 charged and arrested in shooting that left 2 dead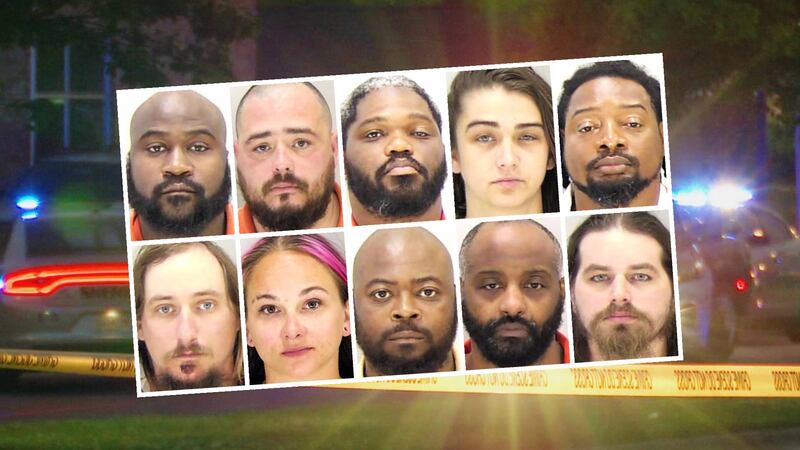 Published: May. 14, 2023 at 5:10 PM EDT
AUGUSTA, Ga. (WRDW/WAGT) - The Richmond County Sheriff's Office booking department confirms 10 people have been arrested and charged in connection with a Saturday night shooting incident that left two dead.
According to deputies, the shooting happened on Sand Bar Ferry Road and East Boundary at 6:35 p.m. Saturday. Five people were shot, two of whom died from their injuries.
The booking department has confirmed the following individuals have all been charged with two counts of murder and one count of aggravated assault:
31-year-old James Bryant

39-year-old Freddie Crosson

38-year-old Tyson Harper

26-year-old McKayla Rickett

44-year-old Larry Ross

30-year-old Cory Sapp

30-year-old Jessica Sapp

42-year-old Larry Sutton

43-year-old Kenneth Taylor

28-year-old Matthew Willis
Richmond County Coroner Mark Bowen has identified those who died as Keith Coates, 30, of Valdosta, and Germayne Farrell, 51, of Daytona Beach, Fla.
Richmond County Sheriff Richard Roundtree said there was an event at a motorcycle club, words were exchanged between people, and shots were fired.
The shooting wrapped up a deadly two days in the CSRA.
On Rennie Street in Graniteville on Friday afternoon, an 86-year-old woman and her 68-year-old son died in a murder-suicide.
And before dawn on Friday, Makala Perkins, 23, of Grovetown, was killed in a shooting on Deans Bridge Road in Augusta.
The shootings are among dozens that have swept the CSRA in the past year, claiming more than 80 lives since mid-April 2022.
Copyright 2023 WRDW/WAGT. All rights reserved.