San Antonio Spurs win NBA draft lottery, chance to select Victor Wembanyama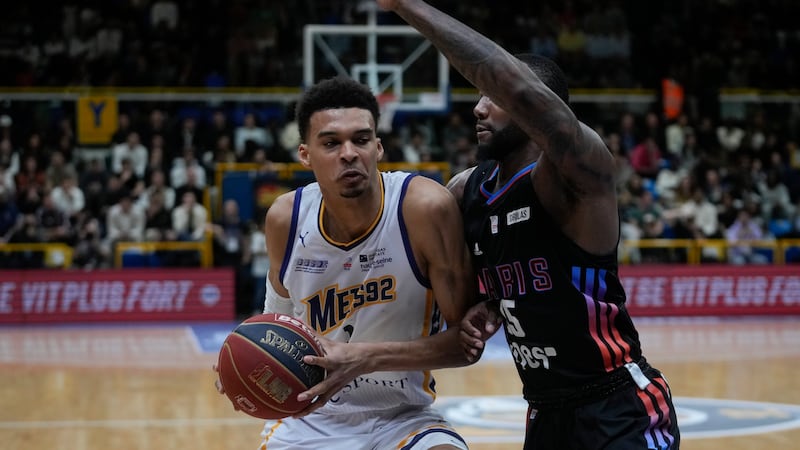 Published: May. 16, 2023 at 8:45 PM EDT
|
Updated: May. 16, 2023 at 10:42 PM EDT
CHICAGO (AP) — Victor Wembanyama is set to follow in the footsteps of David Robinson and Tim Duncan, and the San Antonio Spurs are ready to welcome the French phenom.
It sure seems like an ideal pairing.
The Spurs hit the lottery jackpot on Tuesday, landing the No. 1 pick and the right to draft one of the most highly touted prospects in NBA history.
Not since LeBron James made the jump from St. Vincent-St. Mary High School in his hometown of Akron, Ohio, to the NBA two decades ago has a player come with this much fanfare. At 7-foot-3 and with the ability to shoot like a wing player and pass like a point guard, the 19-year-old Wembanyama is expected to make an immediate impact.
And he had a message for San Antonio.
"I'm trying to win a ring ASAP," Wembanyama told ESPN after the lottery results. "So be ready."
It's the third time the Spurs have won the lottery, and on both previous occasions they made picks that paid off for decades. They chose Robinson in 1987, Duncan in 1997, and those Hall of Fame big men were a major part of how the Spurs became a team that won five NBA titles under coach Gregg Popovich.
"Our future was already bright," Spurs managing partner Peter J. Holt said. "Now, it's going to be through the moon."
General manager Brian Wright called it "an incredible day" for the franchise and the fans.
Charlotte will pick second, Portland moved up to third, and Houston fell to fourth.
"Human nature sets you up to get greedy, so when it was two teams left, yeah, I wanted No. 1, right?" Hornets GM Mitch Kupchak said. "For a second there was a little bit of 'aw shucks' but overall to go from four… to two, it's an incredible stroke of luck."
But to get the No. 1 pick in a year like this?
"People talk about generational talents and you only think on-court skill, but it's bigger than that," Wright said. "Peter talked about his ability to be a great teammate, his ability to think the game, unique challenges. You see him doing things that you wouldn't have even guessed someone could do — his approach, his professionalism. I think when you use the word generational talent, it extends beyond just your ability to put the ball in the basket. And he's unique in so many ways."
The Spurs were 22-60 this season, tied for the second-worst record in the NBA. Popovich and the Spurs have had incredible success with international players in the past — most notably, Manu Ginobili and Tony Parker, who owns the French team that Wembanyama played for last season.
"He's an incredible young man," NBA Commissioner Adam Silver told ESPN as part of its draft lottery broadcast. "He's 19 years old and I didn't take out a yardstick or meter stick or whatever they use in France, but he seemed all of 7-4 to me. … He clearly appears to be a generational talent."
Wembanyama finished his regular season with Boulogne-Levallois of France's top pro league earlier Tuesday, his 22-point effort good enough to clinch the league's scoring title. It was shortly past 2 a.m. Wednesday in Paris when the lottery results were revealed, and Wembanyama was gathered with family and friends for a celebration.
"Can't really describe it," Wembanyama said in his interview with ESPN, adding "it's a really special moment."
Finally, he knows where his NBA journey will begin. His agents did not respond to multiple requests for comment from The Associated Press.
"I think the team that has the first choice isn't going to get it wrong," said Vincent Collet, Wembanyama's coach in France and also the coach of the French national team — which Wembanyama is expected to play for this summer at the World Cup and next summer at the 2024 Paris Olympics.
Detroit had the worst record in the NBA and was one of the three teams with the best odds of winning. The Pistons wound up falling all the way to fifth, the worst of their possible outcomes.
The rest of the lottery order: Orlando will pick sixth, Indiana seventh, Washington eighth, Utah ninth, Dallas 10th, Orlando (from Chicago as part of an earlier trade) in 11th, Oklahoma City 12th, Toronto 13th, and New Orleans 14th.
Wright said he woke up at 5 a.m. and wished he could have gone back to sleep. He was so anxious he didn't eat all day. But he did perform his end of a secret handshake he and his 9-year-old son have, hoping it would bring good luck.
Wembanyama is wrapping up his third professional season in France and has been the consensus top pick for months. He wasn't at the lottery because of his game schedule in France. But many of the other top prospects — Scoot Henderson of the G League Ignite, Brandon Miller of Alabama, twin brothers Amen and Ausar Thompson of the Overtime Elite program — were in the room to watch the lottery results get unveiled and get a little better idea of where they may be heading to start their NBA careers.
___
AP Basketball Writer Tim Reynolds and AP Sports Writer Steve Reed in Charlotte contributed to this report.
___
AP NBA: https://apnews.com/hub/nba and https://twitter.com/AP_Sports
Copyright 2023 The Associated Press. All rights reserved.