Inmate who escaped transport vehicle in Kentucky caught after two-day search
Published: May. 21, 2023 at 5:06 PM EDT
|
Updated: May. 21, 2023 at 5:07 PM EDT
LOUISVILLE, Ky. (WAVE/Gray News) - An inmate who was on the run for more than two days has been caught and arrested, according to police.
In a Facebook post, Louisville Metro Police Department confirmed 31-year-old Norman K. Wolfe had been caught and arrested.
Police say Wolfe escaped early Thursday morning while being transported to Trimble County for a court hearing. It's believed Wolfe may have gotten out through the window of the transport vehicle.
WAVE reported a heavy police presence was spotted near the I-265/I-71 interchange in eastern Jefferson County on Thursday.
Around 8:30 a.m., LMPD were informed of an individual seen running along the lanes of traffic wearing orange clothing. The department confirmed the inmate was Wolfe.
According to court documents, Wolfe was a convicted felon out of Clark County, Indiana, and had been arrested in April in connection with a burglary. Wolfe has charges against him for burglary, fleeing, evading police and possession of a handgun as a convicted felon.
LMPD and other agencies began searching the surrounding area to find Wolfe, and the department told nearby businesses and schools to take precautions.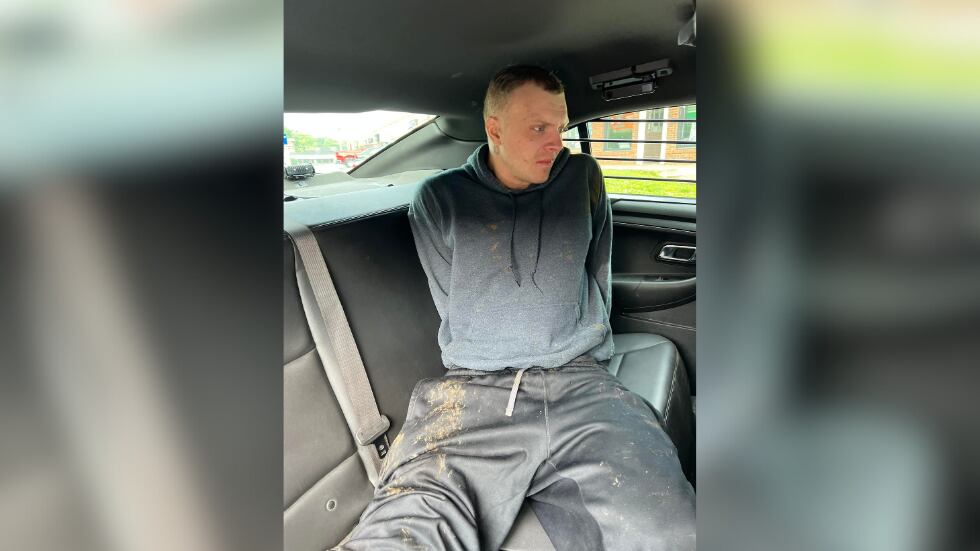 Around 11:30 a.m., officers said Wolfe had kidnapped two victims from the 8500 block of Brownsboro Road and were forced to drive the suspect to the area of River Road and Edith Avenue. The victims were found unharmed and told police the incident happened around 10:20 a.m.
On Saturday, LMPD Fugitive Unit and SWAT said Wolfe was seen in the passenger seat of a vehicle on Washington Street.
Officers made a traffic stop and ordered the driver to get out of the vehicle. Police say Wolfe then slid into the driver's seat and drove away. After a short pursuit, the vehicle was disabled near Brownsboro Road and Lindsay Avenue.
Tang Nguyen owns New York Nails, a business nearby, and witnessed the pursuit.
"We all were working and we saw a cop drive real fast on Brownsboro Road. He was chasing some guy and we didn't know who he was," Nguyen said. "Next thing you know, he turned down Lindsay and crashed over there by the stop sign and the bus stop."
Nguyen said when he heard sirens, he thought it was just a normal day but had no clue a chase for a fugitive was underway. He said there were easily more than ten police cars nearby as they worked to get Wolfe into custody.
"I'm so happy that law enforcement finally got him into custody. Because we have been kind of nervous," he said. "We asked the customers to keep a lookout for anyone to see him and everything. But I know this area here. We were always making sure that people lock their cars, and stuff like that. Keep the doors locked."
Wolfe was taken into custody and was transported to the hospital due to some injuries from his escape from custody on Thursday, according to police. He will be taken to Metro Corrections when released from the hospital.
Copyright 2023 WAVE via Gray Media Group, Inc. All rights reserved.