Pleasant, dry and mild week ahead
Published: May. 21, 2023 at 4:40 PM EDT
|
Updated: May. 22, 2023 at 4:59 AM EDT
GREENVILLE, S.C. (FOX Carolina) - Drier weather ahead for the week, along with slightly cooler and less humid days.
First Alert Headlines
Mostly cloudy, mild Monday

Drier stretch for most of this week

Less humid and slightly cooler
Download the First Alert Weather app for custom alerts.
Temperatures take a dip overnight, with most waking up in the mid-50s in the mountains making for a comfortably cool start to the day. The Upstate wakes up to the upper 50s to the low 60s takes to slightly higher humidity.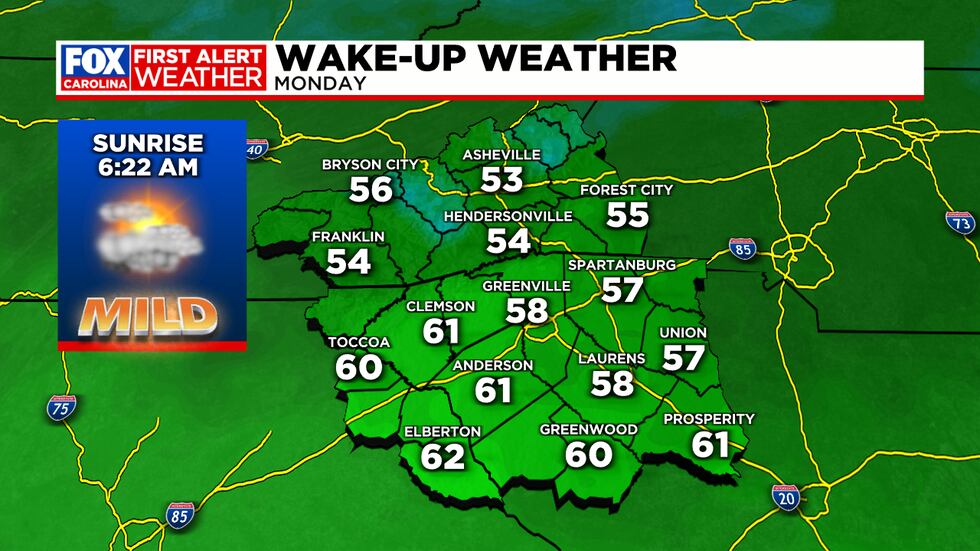 We kick off the new week with some fabulous weather on Monday. Expect a mix of sun and clouds but no rain. The humidity is low and temperatures are right around seasonal norms, just slightly below, with highs expected to hit the upper 70s to low 80s across the Upstate and mid-upper 70s in the mountains.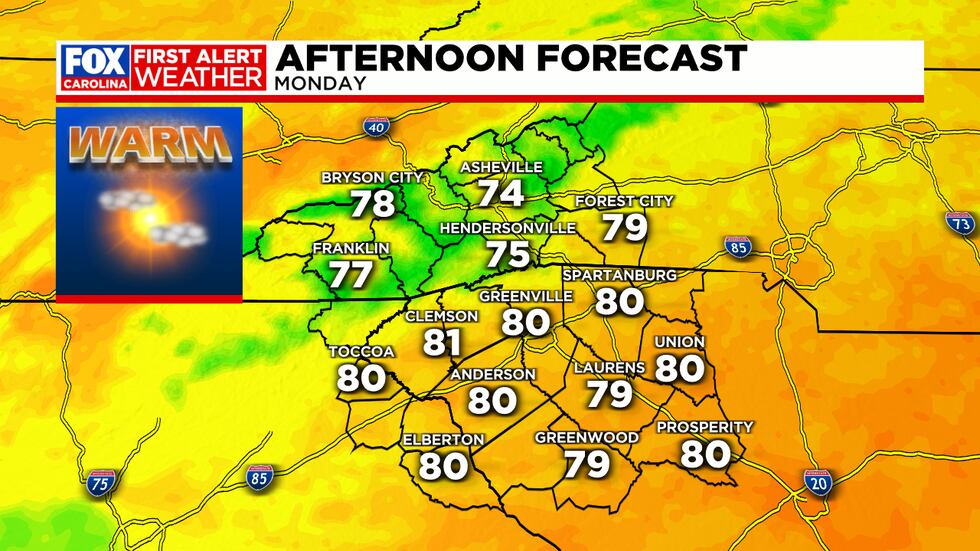 The humidity stays nice and low all week long. This gives us morning lows the 50s and even some 40s in the mountains. Our afternoon highs do take a couple of dips. Temperatures drop off to the low to mid 70s, running about 5 degrees below normal for late May thanks to a mostly to partly cloudy sky. On Wednesday, highs climb a touch to the mid to upper 70s and are back in the mid 70s to around 80 on Thursday. A cold front moving through Friday cause temperatures to take a tumble. Highs fall to the upper 60s to low 70s running almost 10 degrees below normal. But by Memorial Day weekend temperatures climb back to the 70s and 80s.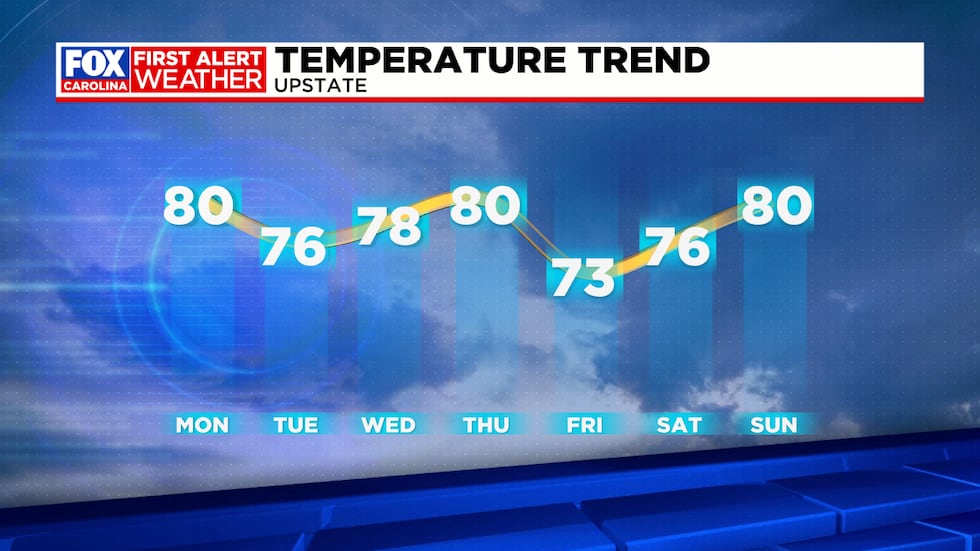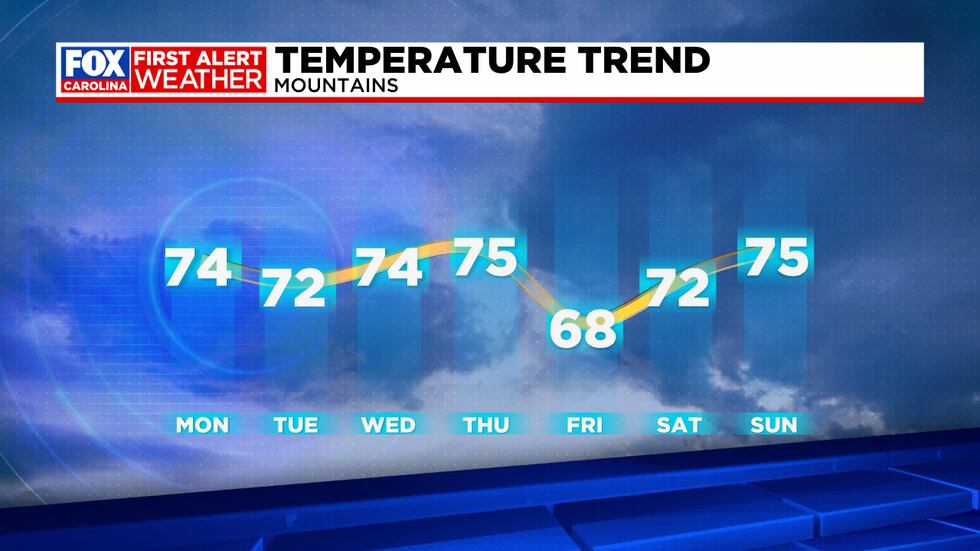 On Tuesday, a low pressure to our south along the Gulf Coast is going to try to throw some extra moisture our way. For the most part, this just means partly to mostly cloudy skies through the day. There is a small chance for an isolated shower on Tuesday across Northeast Georgia and the southern Upstate. Don't cancel any plans over this small chance, but just keep an eye on it. On Wednesday, the low pressure heads east across the Florida peninsula pulling excess moisture away from our area. This keeps us dry with mostly sunny skies.
A cold front to our north sags south toward the Carolinas on Thursday. The front doesn't have a lot of rain associated with it, but it's enough to bring in a small chance for isolated to widely scattered showers for the later part of the week. Thursday could bring a stray shower to the mountains with a slightly better chance for scattered rain on Friday, although still not an all day washout. The Upstate has a small chance for isolated showers on Friday but the models aren't in great agreement on timing and amount so plan to go ahead with any outdoor plans you may have.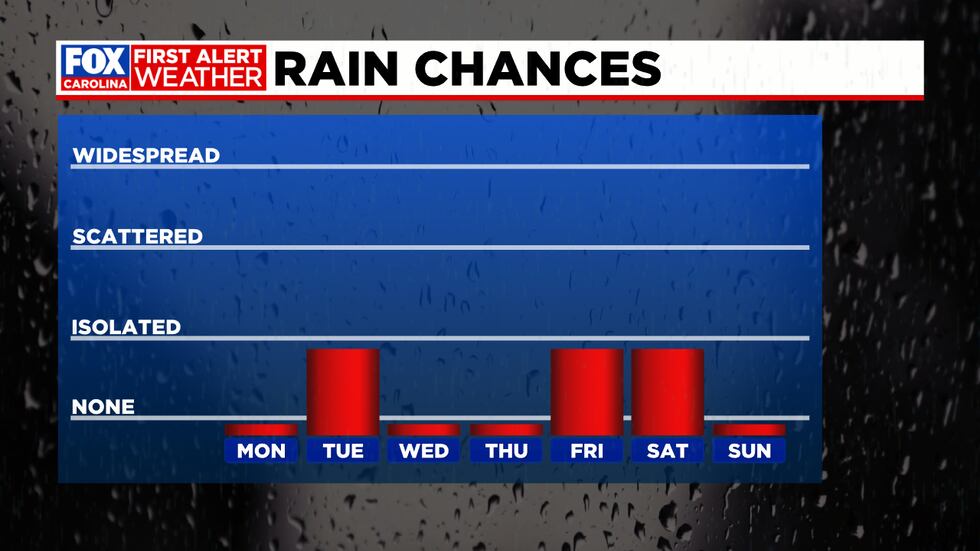 Copyright 2023 WHNS. All rights reserved.