GRAPHIC: Officer charged with manslaughter in shooting of man who called 911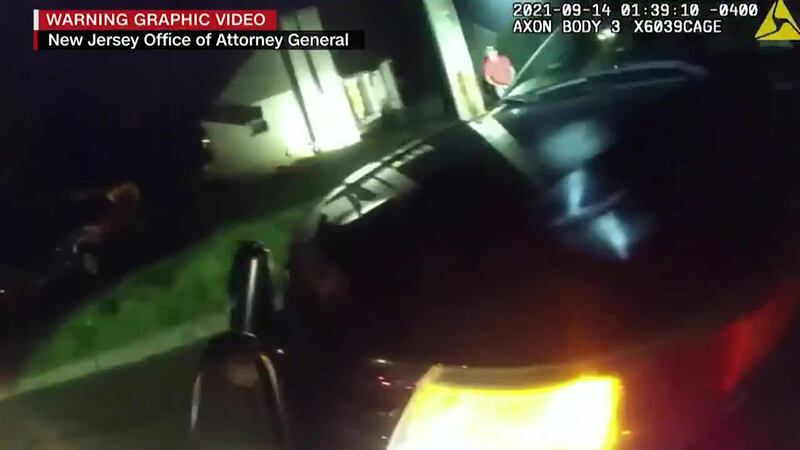 Published: May. 26, 2023 at 1:19 AM EDT
MANTUA, N.J. (AP) — A police officer who fatally shot a homeowner who had called 911 to report intruders outside his southern New Jersey home has been indicted on a manslaughter charge.
The count against Mantua Township Police Officer Salvatore Oldrati was handed up Tuesday by a state grand jury and was made public Wednesday night. He faces up to 10 years in prison if convicted.
The charge stems from the Sept. 14, 2021, death of Charles Sharp III, 49, who called 911 around 1:30 a.m. to report he had spotted two burglars in his backyard and that one of them had a handgun. Oldrati and another Mantua officer, Cpl. Robert Layton, soon responded to the home in different vehicles.
Sharp, who had remained on the phone with the 911 dispatcher, was standing in his front yard when the officers arrived. Layton got their first, with Oldrati arriving a short time later.
As Oldrati got out of his police vehicle, Layton yelled, "He's got a handgun on him, right there," the attorney general's office said in a press release. Oldrati then fired his service weapon multiple times, hitting Sharp several times. Sharp was taken to a hospital but was pronounced dead there a short time later.
Layton did not discharge his service weapon, authorities said, and neither he nor Oldrati were injured. A replica .45-caliber firearm was recovered near Sharp, authorities said.
Investigators determined that Oldrati gave no verbal commands or warnings before shooting Sharp.
"When residents call 911 for service, they are concerned, they need assistance, they seek protection — and they trust the officers responding to their calls will respond accordingly and help them," state Attorney General Matthew Platkin said in a statement. "Tragically, that did not happen here."
GRAPHIC: The video contains material that some may find disturbing.
The case was reviewed by the grand jury, which is mandated in cases where a civilian dies during an encounter with a law enforcement officer. The Office of Public Integrity and Accountability investigated the incident and presented their findings to the grand jury.
"Less than five seconds elapsed between when Officer Oldrati stepped out of his police vehicle and when he began firing at Mr. Sharp," Thomas Eicher, the office's executive director, said in the statement. "... The grand jury determined that his conduct was not justified and warranted the return of an indictment for manslaughter."
Oldrati's attorney, Christopher St. John, said he was surprised and disappointed by the indictment, and his client was "extremely disappointed."
"However, I'm very confident that once an actual jury, a petit jury, is able to view all of the evidence in its entirety, that Sal will be exonerated," St. John said.
Copyright 2023 The Associated Press. All rights reserved.