Community comes together in benefit for girl shot in Aiken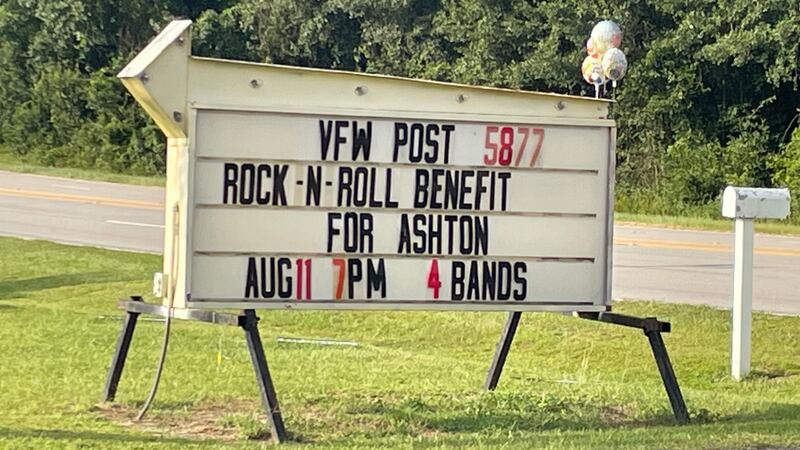 Published: Aug. 11, 2023 at 7:18 PM EDT
AIKEN, S.C. (WRDW/WAGT) - It's only been a few months since a 14-year-old was shot in an Aiken Walmart.
The community is continuing to come together to support her.
The VFW Post 5877 in Aiken held a benefit concert for her on Friday.
It's the sound of support from an entire community.
"I hope it's a really good turnout. Hopefully, she'll feel all the love and support in the air for her tonight," said John Yazanko, Vice Commander of VFW 5877.
MORE FROM NEWS 12:
When the veterans at VFW post 5877 heard the news: "Oh we were all shocked. I mean the word spread like wildfire," said Charles Eiloff, VFW 5877 commander.
It was no question they'd do what they know best- help.
"Our comrades who are in distress, we reach out to them and help them and it's the same thing with Ashton," said Eiloff.
They prepared for a big turnout, especially after seeing Aiken come together and be #ashtonstrong.
"Looking for a good time. I hope people are generous laughs, and we wanna help this young lady as much as we can," said Eiloff.
Bands playing music, food, and encouragement were all for Ashton.
Yazanko said: "I think like everybody else I was shocked and I just, I couldn't believe what happened to her. A perfectly innocent young woman like that was just horrible. I'm so glad she's recuperating."
Ashton was there to soak it all in.
"Wow, like all these people are here just to support me and help me," said Ashton. "Just to see everyone come together and support me, it's crazy."
Ashton's parents were there too.
"We have a great support group just as our family and friends in general but that grew the night all of this happened," said Tony and Ashley Rickard.
The support hasn't stopped.
"She definitely is more of an overcomer of what she's been through," said Ashley. "She's a survivor. She's strong."
She has an even stronger attitude.
"She's an inspiration to us," said Ashley and Tony. "I know other people say she's an inspiration to them but she's an inspiration to us."
But to Ashton, she's just another teenager.
"I guess as relaxed as you could be but I'm getting back to normal," said Ashton. "Prayer does things, things you don't know it can do."
Eiloff said: "I wish her all the luck in the world. I'm just sorry that she has to go through what happened to her and she's a strong gal. I'm sure she'll be just fine in the future."
The concert was from 7 p.m. until about 2 a.m. at 116 Midway Circle in Aiken with free entry.
They are asking for donations to support Ashton.
Copyright 2023 WRDW/WAGT. All rights reserved.