GRAPHIC: Man accused of hitting officer with hammer; body camera shows attack
Published: Aug. 16, 2023 at 8:13 AM EDT
MIDDLETOWN, Conn. (WFSB/Gray News) – A man is accused of attacking a Middletown police officer last weekend.
The incident happened Saturday around 6:33 a.m.
Middletown police received a complaint about noise and breaking glass at 195 Liberty St., officials said.
Body camera video released late Tuesday afternoon shows a suspect, identified as 52-year-old Winston Tate, attack the officer with a hammer.
GRAPHIC WARNING: Video includes content that some may find disturbing.
Police said Tate took a hammer and hit Travis four times.
While on the ground, the officer, detective Karli Travis, shot Tate several times. Then he was arrested.
Tate appeared in court on Tuesday.
"He's dangerous. There's nobody that's safe from this man," said the state's attorney.
Tate shook his head and closed his eyes as attorneys described the attack.
Tate even tried to take his prison jumpsuit off while the judge decided his bond. A public defender calmed him down.
Travis was taken to Middlesex Hospital for injuries. She was treated and has been released, according to the state.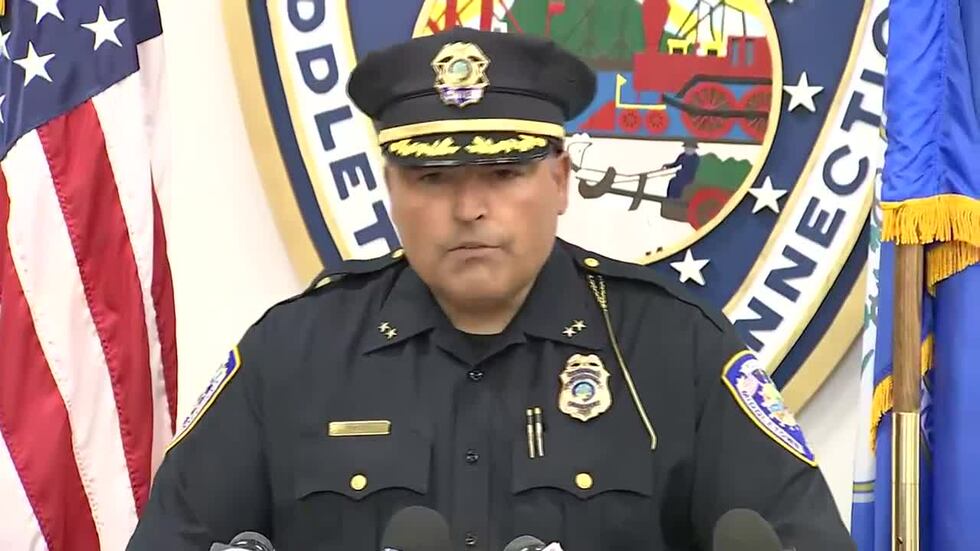 More than 20 Middletown police officers attended the news conference supporting Travis. Officers are calling Travis a hero.
"She's resting comfortably at home. She's being supported. We're extremely proud of her," said Middletown Police Chief Erik Costa.
Police said they were called to Tate's home five times in the last month for disturbances.
Tate served jail time for attacking police officers in 2017 and 2020. He served one year for the 2017 incident and was on probation for the 2020 attack when he allegedly assaulted Travis.
"He is a convicted felon that dates back to 1995," Costa said.
Middletown's police union said, "It is our hope that this time finally after attempting to murder a police officer, he will suffer the consequences that he so rightfully deserves."
"We believe she's strong and she needs to be known as a heroine, obviously," Costa said .
Tate was released from the hospital on Monday, the state said.
Police said Tate was charged with criminal attempt to commit first-degree assault, second-degree assault, assault on public safety personnel and interfering with police.
He was held on a $500,000 bond.
An investigation into the shooting is ongoing by the inspector general's office.
To watch the full, unedited version of the body camera footage, click here.
Copyright 2023 WFSB via Gray Media Group, Inc. All rights reserved.