Getting breezy as tropical threat grows for the coast
Published: Sep. 21, 2023 at 6:28 AM EDT
|
Updated: Sep. 21, 2023 at 5:13 PM EDT
GREENVILLE, S.C. (FOX Carolina) - Thursday's looking like another winner, but things will be getting breezy as the weekend draws closer.
First Alert Headlines
Sun & clouds today, continued comfortable

Breezy conditions develop this evening into Friday

Mostly dry weekend, but watching coastal low's track
Download the free FOX Carolina First Alert Weather app
A mix of sun and clouds will continue throughout the day, with temperatures set to climb into the mid 70s across the mountains and low 80s upstate. With humidity levels remaining low, it will be another great day to get outside if you have the chance to. East-northeasterly winds at 5-10 mph, will pick up to around 10-15 mph later this afternoon as an area of low pressure develops off the coast.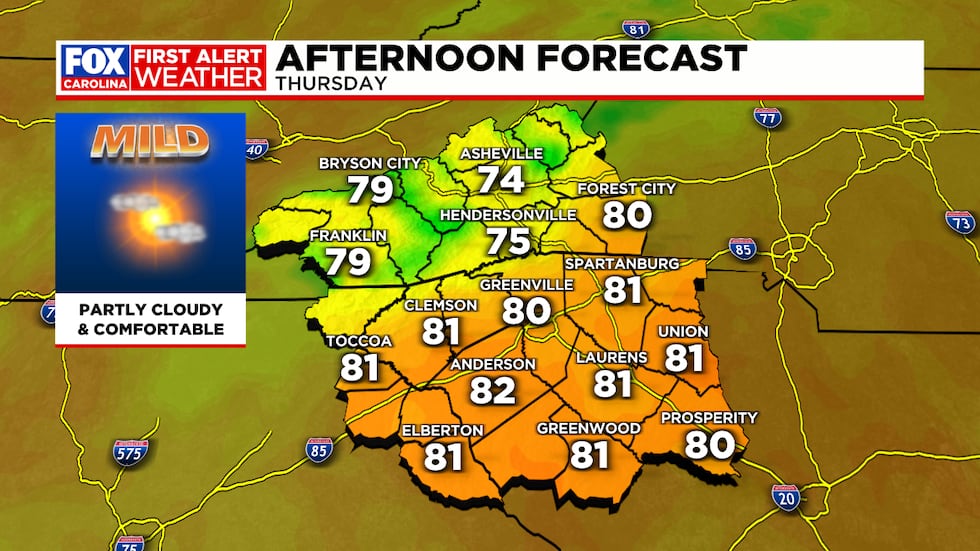 Expectations regarding the developing coastal low near Florida have changed based on new data coming in today. The National Hurricane Center has now classified the system as Potential Tropical Cyclone Sixteen, as it is beginning to take on more tropical characteristics. The storm is forecast to become a full-fledged tropical storm later today or on Friday. Assuming a system closer to Africa doesn't develop sooner, the storm would be named Ophelia.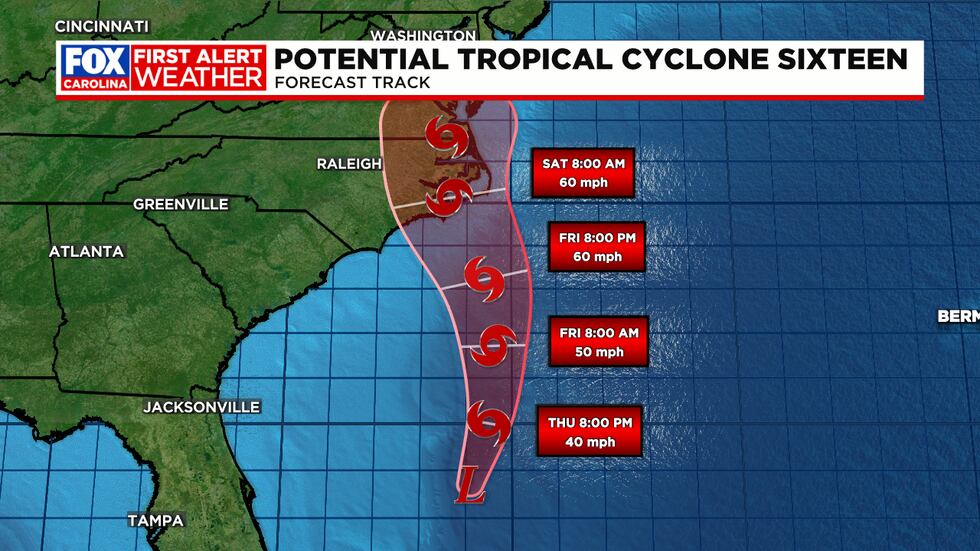 Impacts in our area remain mostly unchanged for Friday and Saturday. We'll see a mix of sun and clouds Friday, with some of the cloud cover from the tropical system breaking inland from time to time. Breezy conditions are going to be the main issue for us, with northeasterly winds picking up to 10-20 mph. Gusts of 20-30 mph will be possible across the upstate on Friday afternoon, with slightly lower gusts of 10-20 mph expected across the mountains. Winds are not expected to be damaging, but you'll want to secure any loose objects around your home like patio furniture or garbage cans.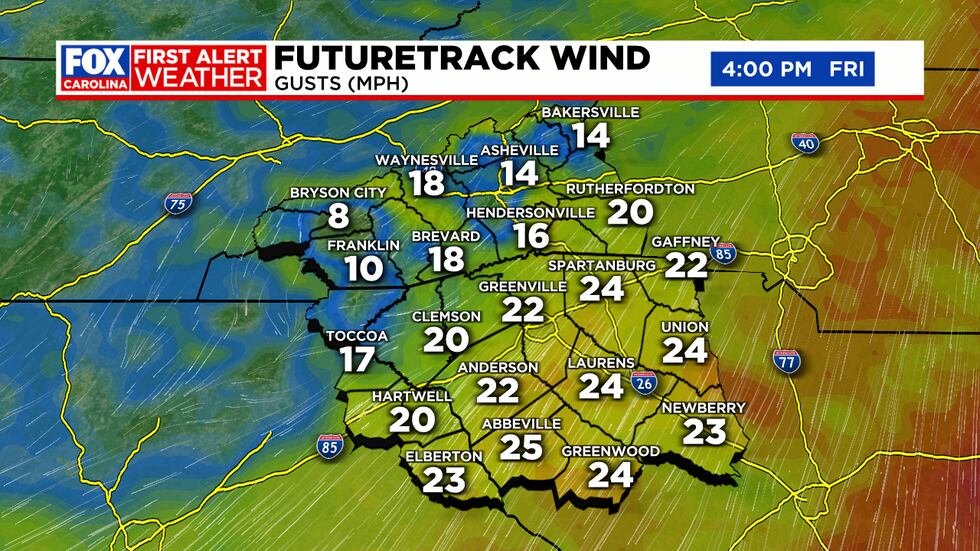 It also looks like we will avoid the rain with this system, although it will be a close call. Some of our eastern communities like Gaffney, Union, and Newberry may come close enough to the edge of the system for a few showers to spill in late Friday night into the predawn hours of Saturday. Any rain and cloud cover will clear out quickly as the storm moves away on Saturday, but breezy conditions will linger through the first half of the weekend.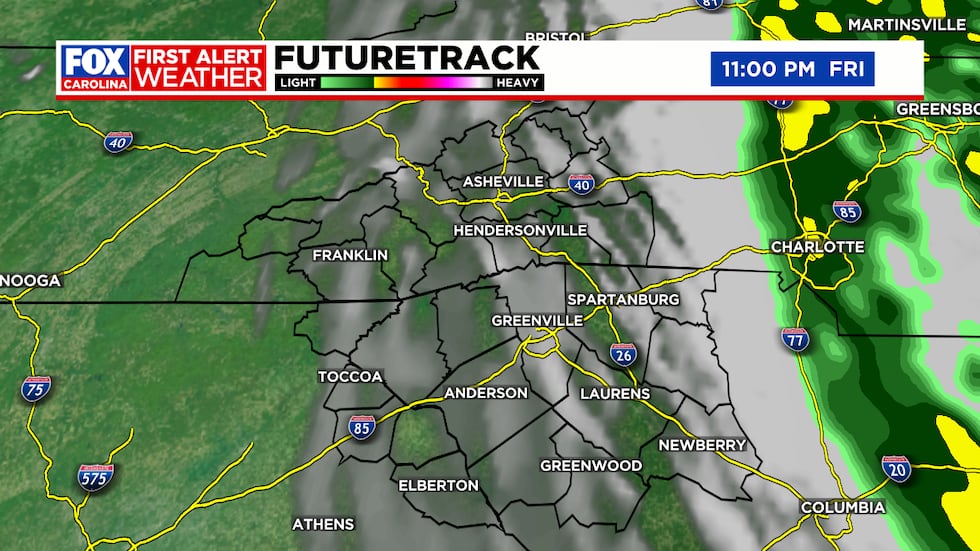 With this long stretch of dry weather after an abnormally dry start to September, don't forget to give your lawns and gardens a little love. We've only had 0.72″ of rain so far this month which is 1.55″ behind where we should be in rainfall for the month. With the first three weeks of the month being so dry and no major rain in the forecast until maybe the middle of next week the drought status is something we'll be watching closely.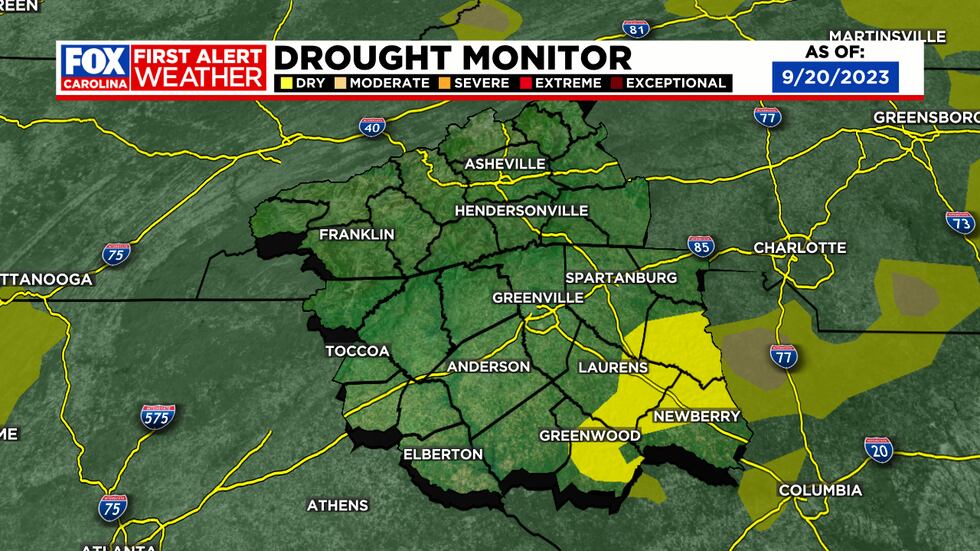 Copyright 2023 WHNS. All rights reserved.