Korean War soldier returns home for Upstate burial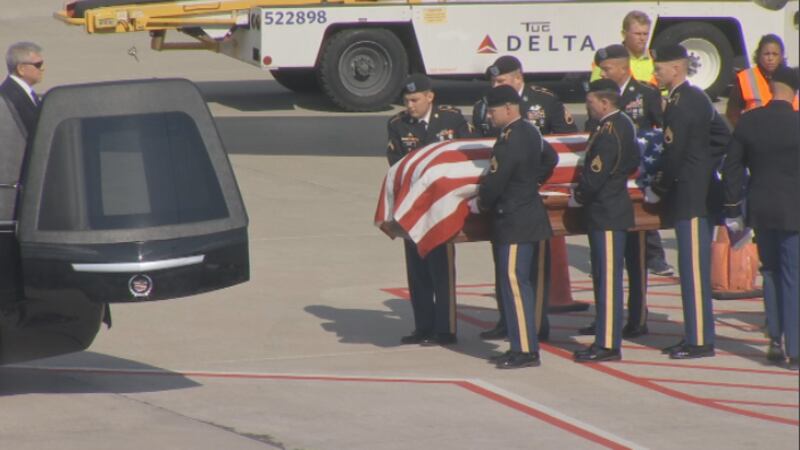 Published: Sep. 22, 2023 at 2:49 PM EDT
|
Updated: Sep. 29, 2023 at 10:32 AM EDT
GREENVILLE, S.C. (FOX Carolina) - A Korean War soldier from Greenville came home to the Upstate on Friday, 70 years after he was killed in action.
For decades, officials and the family of Army Pfc. Albert Gosnell didn't know where his remains were. The 18-year-old was a member of the Heavy Mortar Company, 19th Infantry Regiment, 24th Infantry Division when the unit was forced to retreat in Taejon, South Korea on July 16, 1950.
He was reported missing in action after the retreat and a presumptive finding of death was issued by the Army in 1953.
Unidentified remains that would later be linked to Gosnell were buried in Hawaii at the National Memorial Cemetery of the Pacific. In July 2018, a plan was implemented to disinter hundreds of unknown remains from the burial site, known as the Punchbowl.
Military officials announced that using dental records, chest radiography and mitochondrial DNA analysis, scientists were finally able to identify Gosnell. To show he has been accounted for, a rosette will be placed next to his name on the Courts of the Missing at the Punchbowl.
Gosnell's remains arrived at Greenville-Spartanburg International Airport on Friday morning.
A service will be held on Sunday from 9:30 a.m. to 11:30 a.m. at Cremation Society of South Carolina - Westville Funerals. His brother Kenneth Bruce Gosnell, who was four years younger and prepared to service Korea, will also be remembered.
Gosnell will be laid to rest at M.J. "Dolly" Cooper Veterans Cemetery.
Copyright 2023 WHNS. All rights reserved.