Ophelia strikes NC, staying dry and breezy locally
Published: Sep. 22, 2023 at 6:55 AM EDT
|
Updated: Sep. 22, 2023 at 10:51 PM EDT
GREENVILLE, S.C. (FOX Carolina) - Ophelia continues to track along the east coast, bringing heavy rain and strong wind. Some storm surge likely along the Outer Banks.
Breezy, but pleasant conditions will continue this evening as we sit just outside the fringe of Tropical Storm Ophelia. Skies will vary from clear to partly cloudy through tonight as some of the outer clouds break farther inland from time to time. Temperatures in the 70s this evening will dip into the middle and upper 50s by morning with 5-15 mph winds.
Variable clouds and sunshine will continue on Saturday as we dodge the rain from Ophelia, but remain close enough to pick up some of the breezy conditions. The strongest winds will shift to the mountains, with gusts of 20-30 mph expected through the early evening hours. Gusts across the Upstate and northeastern Georgia will come in slightly lighter at 10-20 mph. Keep any loose objects around your home secured, and use caution if headed outdoors in wooded areas.
Sunday looks fabulous and wind calm down across the area and we see mainly sunny skies. Highs are in the upper 70s to low 80s in the Upstate to the mid 70s in the mountains.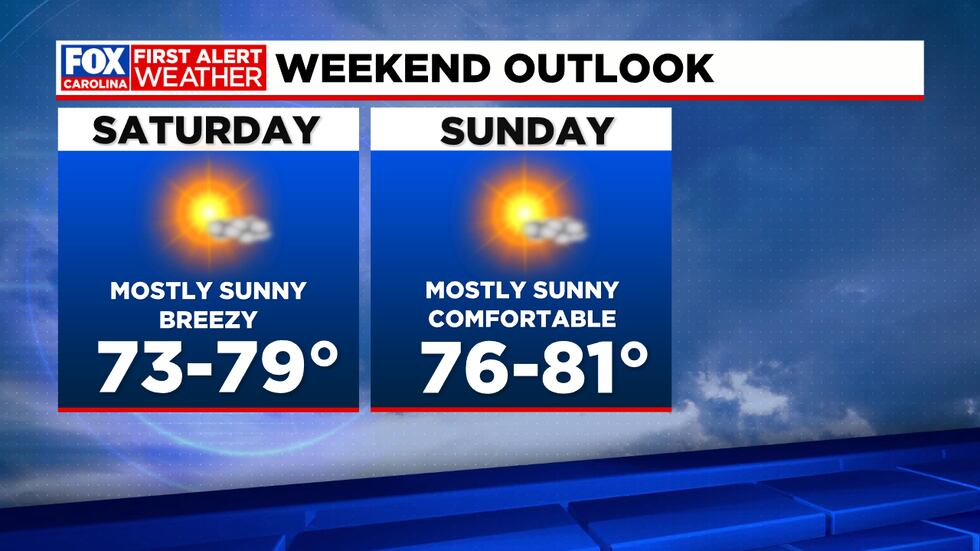 Tropical Storm Ophelia has strengthened quickly today, with the latest update putting sustained winds at 70 mph. While not currently forecast to become a hurricane, it is close enough that the possibility is certainly on the table before the storm makes landfall south of the Outer Banks on Saturday morning.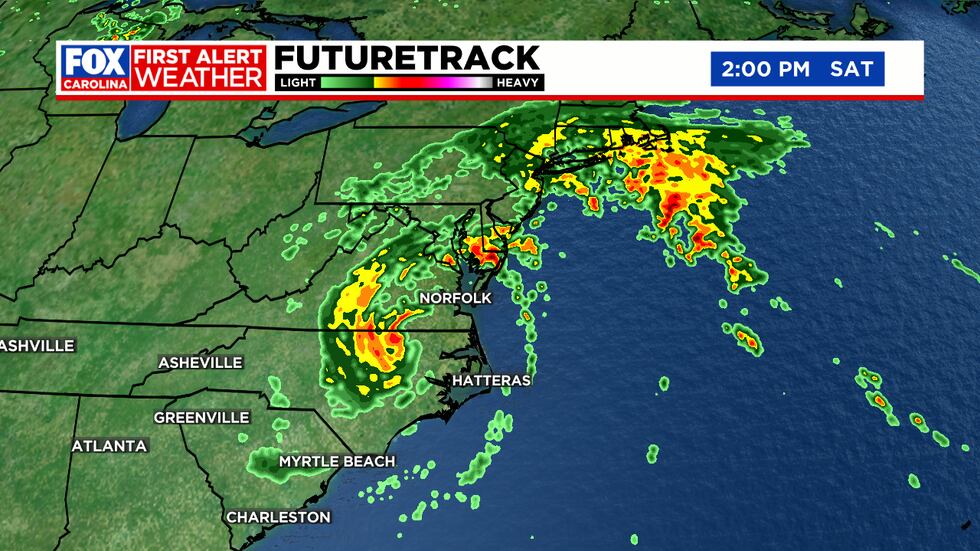 Conditions along the South Carolina coast will be at their worst through the first part of tonight, but some signs of improvement are already showing. While winds of 20-30 mph will continue, with gusts as high as 45 mph, a northerly turn in the winds will help to take the threat of coastal flooding off he table. Occasional showers will be possible north of Myrtle Beach before daybreak, but these will tend to become less numerous as dawn approaches.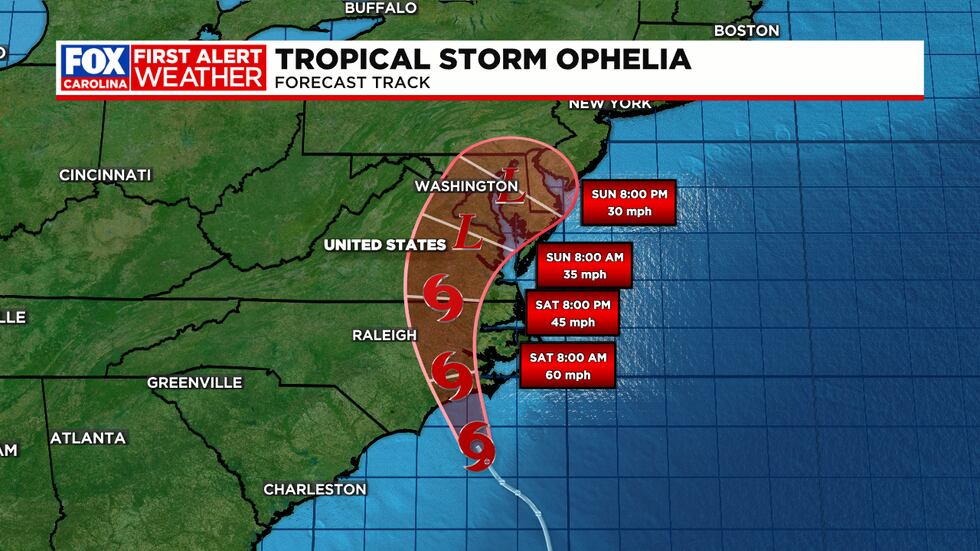 Eastern North Carolina will bear the brunt of the storm, with periods of heavy rain continuing through most of Saturday. The system will weaken as it moves inland, but it will be a roughly 24-hour period of rain and strong winds before the storm heads toward Washington D.C. and Baltimore on Sunday.
Copyright 2023 WHNS. All rights reserved.