Beautiful, sunny weekend ahead
Published: Sep. 28, 2023 at 11:32 AM EDT
|
Updated: Sep. 29, 2023 at 6:27 PM EDT
GREENVILLE, S.C. (FOX Carolina) - Mostly sunny, dry weather continues this weekend and through most of next week.
Our weather remains quiet heading into tonight. After a beautiful evening for football games, dinner out, and just about anything else, mostly clear skies will remain in place overnight. This will give us another round of great viewing conditions for the Harvest Moon, so take a moment to look toward the sky if you can! Lows will settle into the mid 50s to around 60 degrees, with the usual patchy fog settling in around the mountains by daybreak.
While we could use some rain, it won't change the fact the we have a gorgeous weekend on our hands. As we make the switch from September to October, our weather will hold steady with mostly sunny skies on Saturday and Sunday. Highs will range from the upper 70s across the mountains, to low 80s upstate, putting us slightly above normal for this time of year. Lows will keep some of the Fall feeling in the air, dipping to the 50s each night.
The forecast won't see any major changes for much of next week, either. This weekend's weather is expected to hold firm all the way through Thursday, so our abnormally dry conditions will only get worse. Silver lining is that at least conditions will be steady: highs in the upper 70s to low 80s with plenty of sun, cooler 50s at night.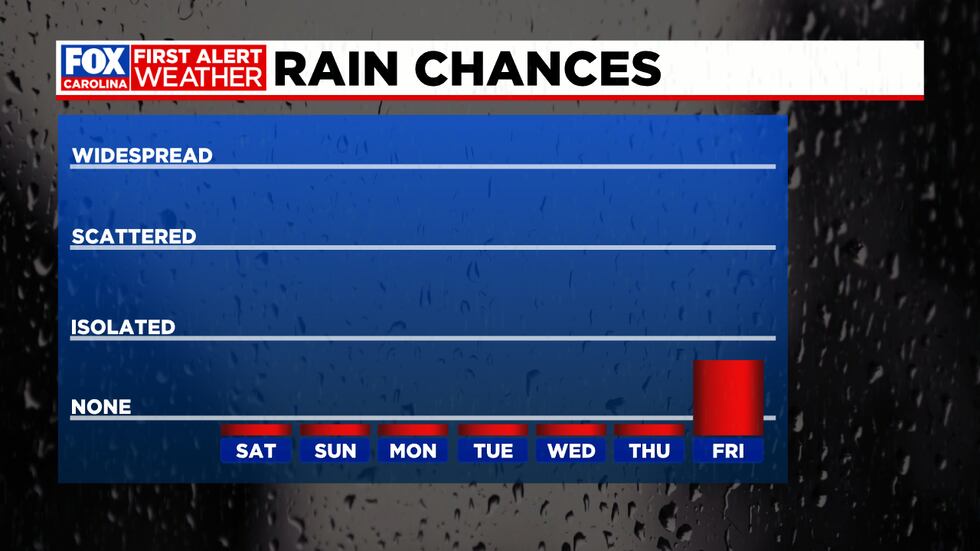 Friday will finally offer up a chance for rain with a new cold front that will be heading our way. We'll be keeping a close eye on how the forecast evolves over the next week, but at least there's some hope on the horizon to get some needed wet weather.
Copyright 2023 WHNS. All rights reserved.