New standards, relationships lead Liberty football turnaround
From no JV team to a thriving program, the keys behind the bounceback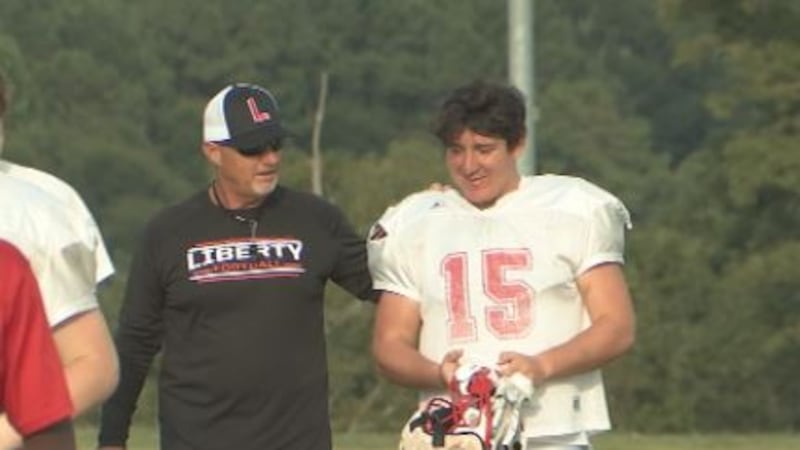 Published: Sep. 28, 2023 at 10:41 PM EDT
LIBERTY, S.C. (FOX Carolina) - A few years ago, Liberty Football hadn't fielded a JV team for back-to-back years and didn't have recreational teams for kids. However, Paul Sutherland has led major improvements during his three years as the varsity team's head coach.
Although he gives a lot of credit to his players and the athletic and school administrators, Sutherland has led the charge to turn around the program by setting standards that create a culture of accountability.
Senior lineman Brady Fuller listed off some of coach Sutherland's standards.
"Don't miss practice without an excuse, be here on time, make sure the locker room stays clean, don't do nothing to hurt the team," Fuller said.
In addition to his standards, Sutherland explained the factors that have led to his program's improvement, which go far beyond the playbook.
"If you think turning a program around is about X's and O's, you're not very knowledgeable about football," Sutherland said. "It's about, number one, the relationship with the kids. There is no close second."
Sutherland explained both sides of forming those relationships with his players.
"I scream at them, I yell at them. I'm not perfect, I make mistakes," he said. "But I also hug them. The standards, yes. But the standards are a distant second to the relationship with the kids."
Fuller said the coach's standards have also become the players' standards.
"I feel like there's a structure," Fuller said. "We all expect something from each other. And once we get out there on Friday night, we know we can trust each other with anything."
Fellow senior Jason "JJ" Hernandez said this year's program looks a lot different from the varsity team he joined 3 years ago.
"To love this sport, to love this town. To be from here, it's amazing to see how far we've come," Hernandez said. "The love that I have and to see the city give it back is a very good, very amazing feeling really."
Hernandez imagined how he'd think about this senior class and coach Sutherland's impact once the season ends.
"To be able to leave here knowing that I made a difference, that we made a difference as a class, it feels very good, very good," Hernandez said.
Coach Sutherland also said comparing the progress the Liberty program has made during his time here with trying to knock off defending state champs Abbeville on Friday is like comparing night and day. Sutherland said he has a long-standing friendship with Abbeville Head Coach Jamie Nickles, who has won eight state titles with the Panthers.
Sutherland said the two will have talked on the phone three or four times this week leading up to FOX Carolina's Game of the Week on Friday.
FOX Carolina's Tailgate Tour will be at Liberty, covering all the fun festivities before kickoff during the 5 and 6 p.m. newscasts followed by highlights of the game in the 10 o'clock newscast.
Copyright 2023 WHNS. All rights reserved.