Tennessee hoping for Volunteer vengeance against Gamecocks
No coincidence Vols wearing 'dark mode' uniforms for second time ever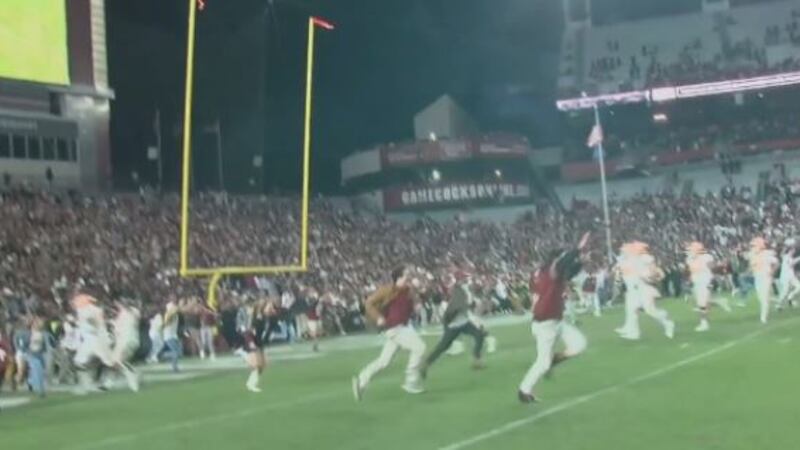 Published: Sep. 28, 2023 at 10:42 PM EDT
COLUMBIA, S.C. (FOX Carolina) - The No. 21 Tennessee football team will wear its "dark mode" uniforms for the second time ever when it hosts South Carolina at 7:30 Saturday night.
It's no coincidence they've chosen this game to put those uniforms back on because the first time they wore them on Halloween 2009, they beat No. 22 South Carolina 31-13 in Knoxville.
The Vols might need that fashion to improve their function. Last season, the Gamecocks got 'em good when they beat the No. 5 Volunteers 63-38 in Columbia and took down the goalpost in celebration.
But for this year's game, we're trading Sandstorm and the Cockaboose Railroad for Rockytop and the checkerboard end zones.
This season, the Gamecocks have already played an away SEC game in front of 93,000 people at No. 1 Georgia.
But Saturday, they'll have an even bigger crowd of 102,000 at a sold-out Neyland Stadium in Knoxville.
These two teams first played each other 120 years ago, and they'll play for the 42nd time this weekend.
Even though Tennessee has owned this matchup at home, beating South Carolina 18 out of the 21 times they've played in Knoxville, they'll be looking for Volunteer vengeance on Saturday night.
Copyright 2023 WHNS. All rights reserved.