Assembly Atlanta's star-studded gala: Red Carpet Special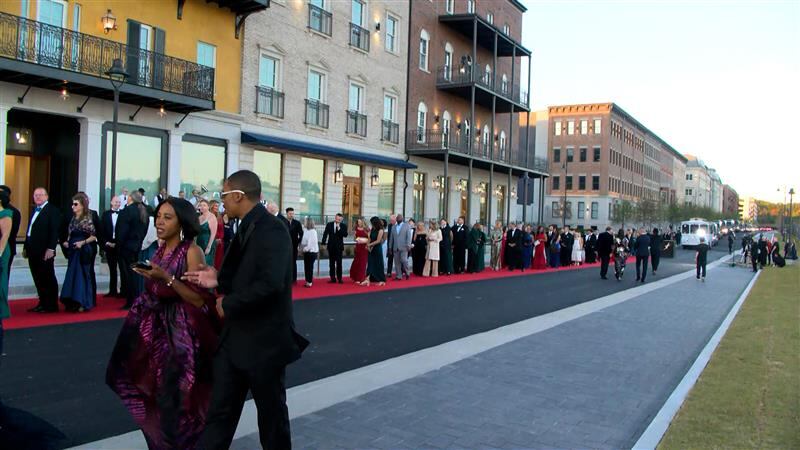 Published: Oct. 20, 2023 at 6:55 PM EDT
|
Updated: Oct. 21, 2023 at 10:36 PM EDT
ATLANTA, Ga. (Atlanta News First) - On Saturday, Doraville will be ground zero for a who's who list of A-listers, politicians and Hollywood stars.
At least 2,500 people made the exclusive guest list to attend Assembly Atlanta's long-awaited grand opening event. The massive million-dollar, full-service studio is Gray Television's newest development with 19 sound stages on 135 acres in DeKalb County.
But you don't have to be on the exclusive guest list to experience the glamour, the fun and the magic. Atlanta News First is giving a rare, behind-the-scenes look at the red carpet event.
The staging and events consortium is comprised of an elite squad of audio and video and production pros responsible for bringing Gray Television's CEO Hilton Howell's vision to life.
"It feels a bit old Hollywood," said Clint Bearden, an Atlanta artist helping decorate for what he calls the "greatest party ever."
And it should be. NMR is familiar with high-profile events. Prior to the Assembly Atlanta's grand opening, NMR's team has overseen large gala events for BlackRock, Morgan Stanley, Facebook and PGA.
"All the teams together are creating huge set pieces," Troy Williams, a Los Angeles-based creative, said. "We're going to bring part of the history of where this started as a General Motors Assembly Plant into Assembly Studios."
Everywhere you look, hints of General Motor's past are woven into the fabric of Assembly Atlanta's bold opening gala. A huge Assembly sign using metal from the former plant will greet guests at its entrance. The bridge that employees used to walk from the parking lot to GM's manufacturing plant will be the same one used to usher in 2,500 guests to dance under a kinetic-lit, 250-foot motion chandelier.
📹 Assembly Atlanta Coverage 📹
Guests will be able to peruse the multiple sound stages, mingle around a southern-inspired spiral staircase with a backlit onyx wall, enjoy artwork by Atlanta icon and artist Steve Penly and enjoy adult beverages at a 25-foot, custom-built bar with sculpted metal tapestry inspired by the draped curtains of the classic cinema palace.
"This is next level. We're going to have a huge red carpet, so when guests first arrive they'll be shuttled to the beginning of the red carpet and Monica Pearson and Ella Dorsey will be on the main stage," Craig Lucie with Lucie Content said. "You never know who's going to show up. I think we're going to have some love and Hip-Hop stars that might appear."
The guest list for Assembly's Grand Opening event is as grand as the party decor itself.
Invitees include celebrities, pro athletes and elected officials, like Atlanta's Mayor Andre Dickens, who will perform the official ribbon cutting and introduce Georgia singer Glady's Knight.
Other musical guests slated to perform include the Montreal Rapsody Orchestra, hip-hop artist Ceelo Green, pop icon Dionne Warwick and international superstar Sheryl Crow.
The national anthem will be performed by Sydney Jack, Gray Television's Third Rail studio employee and current backup singer to the legendary soul group The OJay's.
"I have tingles. I definitely have tingles," Jack said. "I told myself that I'm gonna use the gratitude I feel to power through this experience because I'm so so happy and grateful."
📹 RELATED: Assembly Atlanta's star-studded gala to showcase Georgia, celebrate TV and film
Assembly Atlanta's fairy tale opening celebrates Hollywood South and its new epicenter: Assembly Atlanta.
Rick Burns, senior vice president of Assembly Studios, hopes attendees will marvel at Assembly's creativity, its ingenuity and its 135 acres of soundstages and production facilities for making movie magic in Georgia.
Burns said those unable to attend the gala in person can stream Atlanta News First online for its Assembly's Red Carpet Show.
"We are having a red carpet show from 6 to 7:30 p.m. for all of our television markets in Georgia. So everyone can get a sneak peek of who's attending and what they're wearing," Burns said.
Food trucks will greet attendees for the after-party, including Georgia staples Slutty Vegan and Waffle House. Replicas of Penly's mural on display at Assembly Atlanta will be given to each guest as a "thank you" gift.
WATCH FULL COVERAGE: Assembly Atlanta's Red Carpet Special
Copyright 2023 WANF. All rights reserved.