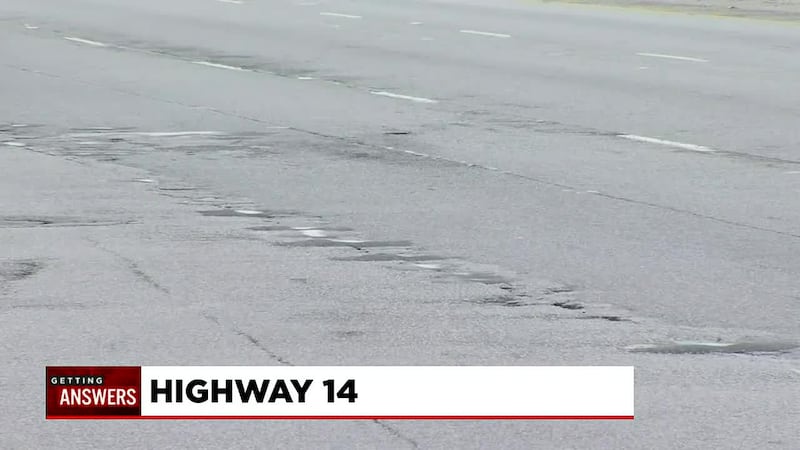 Updated: Oct. 26, 2023 at 6:20 PM EDT
LANDRUM, S.C. (FOX Carolina) - Fox Carolina is working to get answers about your Upstate road concerns.
This week, we are taking a look at one of our most requested roads.
Highway 14 is nearly 60 miles and takes drivers through three Upstate counties.
The road runs from Laurens to Greenville to Spartanburg, up to the North Carolina state line.
Drivers tell us one of the roughest areas is in Landrum near the Greenville and Spartanburg County line.
"I've never seen any real complete repaving done," Wayne Levister said.
With over 44,000 cars traveling the Spartanburg County side daily, Landrum business owner, Wayne Levister tells us, the road isn't equipped for this much traffic.
"A lot of cracks and a lot of potholes. There are shoulders on the road where they lose the asphalt and kind of dips in. We have a lot of those around here as well," Levister said.
Levister owns Landrum Eclectics on Highway 14 and travels the road nearly every day. "There are several little potholes that you run into that knocks your car out of line."
A viewer, Ross wrote in with the same concerns. "The roads are bumpy with cracked pavement. The result: it's very hard on your car."
While parts of Highway 14 in Greer are freshly paved, drivers want to know why there are so many patchy spots in Landrum.
"It has been in pretty rough shape over the years. They've been just doing patch work. They don't really do a whole complete job on it. They come out and fill a pothole and it lasts two or three weeks with that gravel stuff or tar," Levister said, "It's not a complete fix."
Jennie wrote in, "Road damage for many years on SC side of road that is terrible for vehicles. Patching has been done but made worse."
Neighbors who live and work in Landrum want the South Carolina Department of Transportation to do more.
"Fix it! Putting a band-aid on a problem is not fixing something. You know, completely come in and do it proper," Levister said.
Crews will be repaving about one-mile of Highway 14, from Fairview Farms Driver to the North Carolina line.
This is on the books for next year. Construction is expected to wrap up by the end of August 2024.
Submit your road and bridge concerns to FOX Carolina.
Copyright 2023 WHNS. All rights reserved.