29-year-old with brain, breast, liver, and bone cancer preparing for half marathon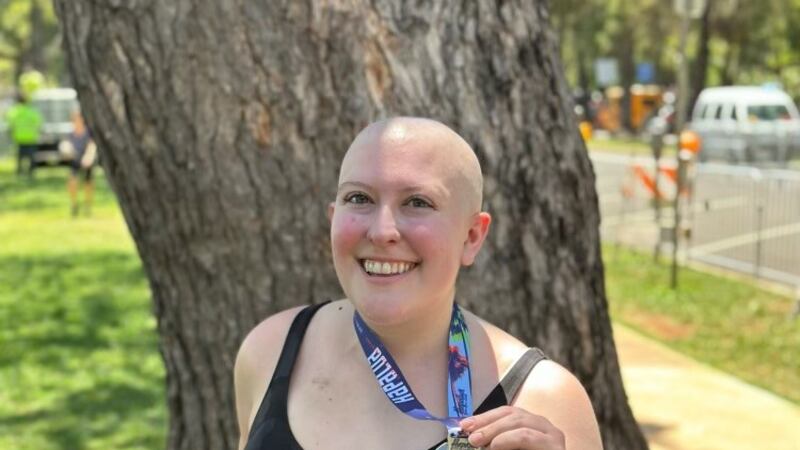 Published: Oct. 27, 2023 at 9:00 PM EDT
|
Updated: Oct. 27, 2023 at 9:01 PM EDT
ATLANTA, Ga. (Atlanta News First) - A park in Peachtree City is one of Heather Tucker's happy places. It's where she goes to walk when she's not working or undergoing cancer treatments.
Last December the then 28-year-old went to an urgent care after a week of feeling sick. That's where she learned cancer was eating away at her spine and releasing large amounts of calcium into her body.
"I thought I was going to go in, get some medications, get some fluids," Tucker said.
Further testing revealed the cancer was in more than one place.
"The test at that time revealed that it was stage four, metastatic breast cancer. Metastatic means it spread from the original location. At that point was also in my liver and my bones," Tucker said. "I was just kind of in denial. I remember thinking, okay they said there is cancer in my back. But I don't have cancer. There is just cancer in my back. Like you kind of go through that denial."
According to The National Cancer Institute, the median age for a cancer diagnosis is 66 years old. At less than half that age Heather was shocked, but hopeful when she started her treatment plan.
It began with surgery to repair four collapsed vertebrae in her back and then came several rounds of chemo.
By March 2023, Heather says 70 percent of the cancer cells were gone! To celebrate, she hopped on a flight to Hawaii and ran a half marathon.
"I say ran, but I definitely walked," Tucker said.
But four short months later, Heather received another devasting diagnosis.
"I did in July receive some negative news that I had cancer in my brain. That it had continued spreading and it's affected my eyes and my vision," Tucker said.
On the same day that Heather found out she would need full brain radiation, she also learned that she got off the waiting list to run another half marathon. This one was in another one of her happy places, Walt Disney World in Orlando, Florida.
She calls it fate.
"I knocked out the first round of chemo and finished a half marathon. I'm going to knock this out and finish this half marathon and do it all for American cancer society," Tucker said.
Heather says she'll keep putting one foot in front of the other until she beats cancer altogether.
"You just got to have hope," Tucker said. "You do the antibiotics. You do the chemo. You do the radiation. You do what they tell you and you get better."
At the end of October Heather found out that her most recent brain MRI came back almost all clear. She will continue to undergo chemo for the next 12 weeks before heading to Disney World in February to run another 13.1 miles.
If you would like to contribute to Heather's fundraiser for the American Cancer Society, click HERE.
Copyright 2023 WANF. All rights reserved.