Woman wearing Amazon vest seen stealing package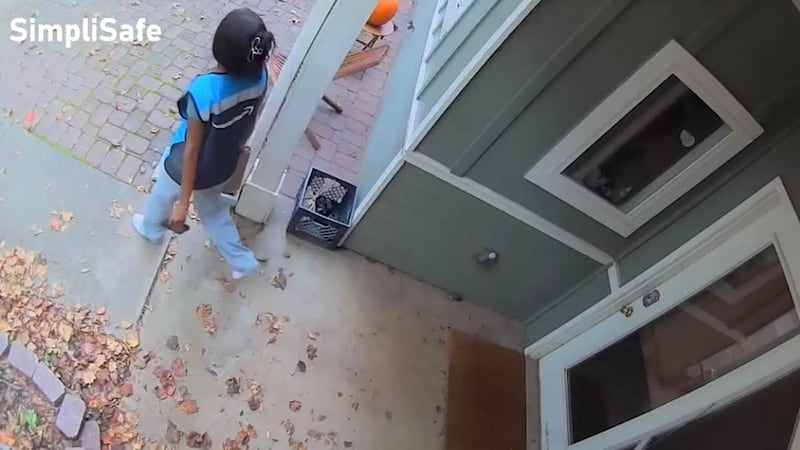 Published: Oct. 27, 2023 at 5:59 PM EDT
|
Updated: Oct. 27, 2023 at 8:50 PM EDT
ATLANTA, Ga. (Atlanta News First) - Waiting for a package? You might want to make sure you get it before someone else does.
A Decatur woman says she was home when her delivery was snatched within minutes by a woman in an Amazon vest.
"It was scheduled to be delivered yesterday, so I was keeping an eye out for the package," said Shelly Curson on Friday.
She says she was working from home when she got a notification that a FedEx employee delivered her new iPhone 15 to her front doorstep.
Doorstep video shows not even a half an hour had passed when a woman wearing an Amazon vest walks up to the front door, looks into a window, and walks away with the package.
"It just felt very brazen that she would walk up and grab the package and walk away," said Curson.
Shelly says she reached out to Amazon about the theft not knowing if the delivery worker is an Amazon employee or just someone pretending to be one.
"Me just being literally feet above where all of this was happening but distracted on a work call, I couldn't believe it, literally 20 minutes and it was gone," said Curson.
In an email to Shelly, Amazon apologized for the experience and says they're "collaborating with the local delivery station to ensure this is fully investigated and the appropriate actions taken."
In a statement to Atlanta News First, an Amazon Spokesperson says:
"We haven't confirmed if the person involved delivers packages for Amazon, but are looking into the incident and will continue to partner with local law enforcement as they investigate."
"We're moving into the holiday season and there's going to be a lot of packages delivered," said Shelly.
As she waits to find out who was behind this vest, Shelly is warning the community to be extra vigilant, just as she plans to.
"Do I pause my work call and say hold on a moment, I have a delivery and run down and grab it?" said Shelly. "I will likely do that, I just don't trust that it can sit there for any amount of time without being taken."
We reached out to FedEx about this incident as well. The company shared this statement with Atlanta News First:
"The security of our customers' shipments is our top priority and are working directly with Ms. Curson to review this matter."
Copyright 2023 WANF. All rights reserved.